My rating: 4 stars
Manu Feildel is hot. And after seeing him at the Melbourne Food and Wine Festival I can confirm that he knows it.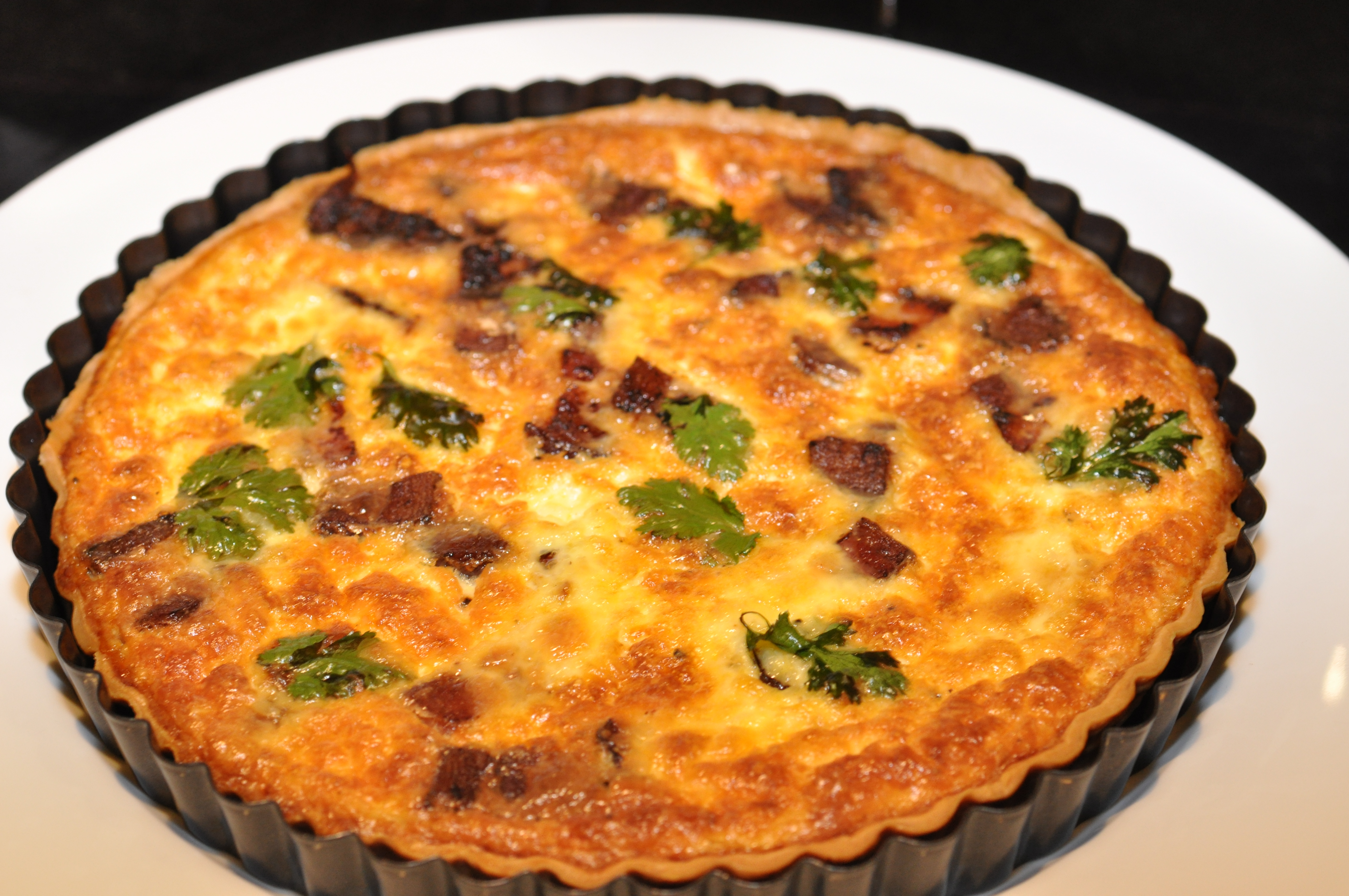 After suffering through his Benny Hill roadshow I had the pleasure of watching the man in action at the stove – albeit from 100 m away on a jumbo-tron.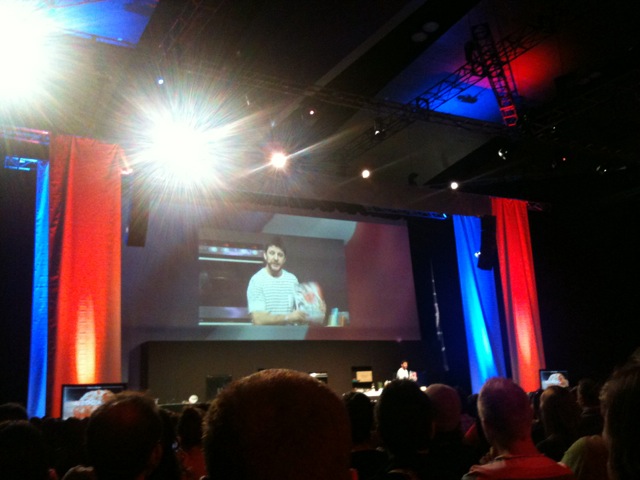 Fortunately none of Manu's jokes make it into the book, eg debearding mussels "iz what I call zee brazeeleean"…
To my complete surprise, this is actually a really wonderful family friendly cookbook that provides recipes to many French classics.
It is nowhere near as difficult as the Balthazar cookbook reviewed last post but still provides delicious, peasant style French dishes. The recipes are adapted to Australian kitchens and market availability.
He also gives the French names and a little story at the top of each recipe. Most of the recipes come from his mum and from his favourite childhood memories.
Manu's Mum's caramelized apple tart
Manu's Duck Confit
Braised Veal Shanks in Red Wine
Beef Cheek Bourginon
Manu's Chocolate Tart Souffle.
Manu also provides some handy menus…
This book is not as lush as the Balthazar cookbook nor does it intend to be. This is French cooking at its simplest and for an Australian audience it is much more accessible than imported tomes. When I want to make a simple French dinner without spending hours sourcing exotic condiments and sweating in the kitchen then I will reach out and grab this book.  So how does the book actually cook?
My Mum's Quiche Lorraine by Manu Feildel

1/2 quanity shortcrust pastry
1 tbl vegetable oil
1 x 100 g piece speck cut into 3 cm x 1 cm (lardons)
1 egg
1 egg yolk
100 ml milk
100 ml pouring cream
pinch freshly grated nutmeg
sea salt and round black pepper
50 g gruyere or emmenthal cheese, grated
thyme leaves (optional), to serve
1. Roll out the pastry on a lightly floured surface, then use to line the base and side of a 20 cm ceramic quiche dish or tart tin with a removable base.  Use a small sharp knife to trim off the excess pastry. Refridgerate for 30 minutes.
TIP:  the recipe calls for a 20cm pastry / flan dish – this is actually very very small – here is a picture for scale:
2. Preheat the ovent to 190C
3. Line the pastry shell with baking paper, then fill with pastry weights, dried beans or rice and bake for 15 mins. Remove the paper and weights, then reduce the oven temperature to 180C and bake the pastry for another 5 minutes or until it is dry and light golden. Remove from the oven and leave to stand until cool.
TIP: I accidentally skipped the step that said, chill pastry in case for 30 minutes before baking. I think thats why my pastry shrunk so much. Also Manu doesn't mention anything about pricking the pastry to avoid air bubbles but I wish I'd done so.
4. Meanwhile heat the oil in a pan over medium heat. Add the speck and cook, stirring often for 5 mins or until golden. Drain on paper towel.
5. Place the egg, yolk,  milk, cream, nutmeg and salt and pepper to taste in a bols and whisk to combine. Stir in the cheese and speck, then pour the mixture into the pastry shell and bake for 20 minutes or until just set. Scatter with thyme leaves, if desired, and serve warm.
Note: I had no fresh thyme so I threw on some leftover coriander for effect – you are NOT looking at alien jumbo-tronned thyme leaves in the picture.
Serves 4-6 as a light meal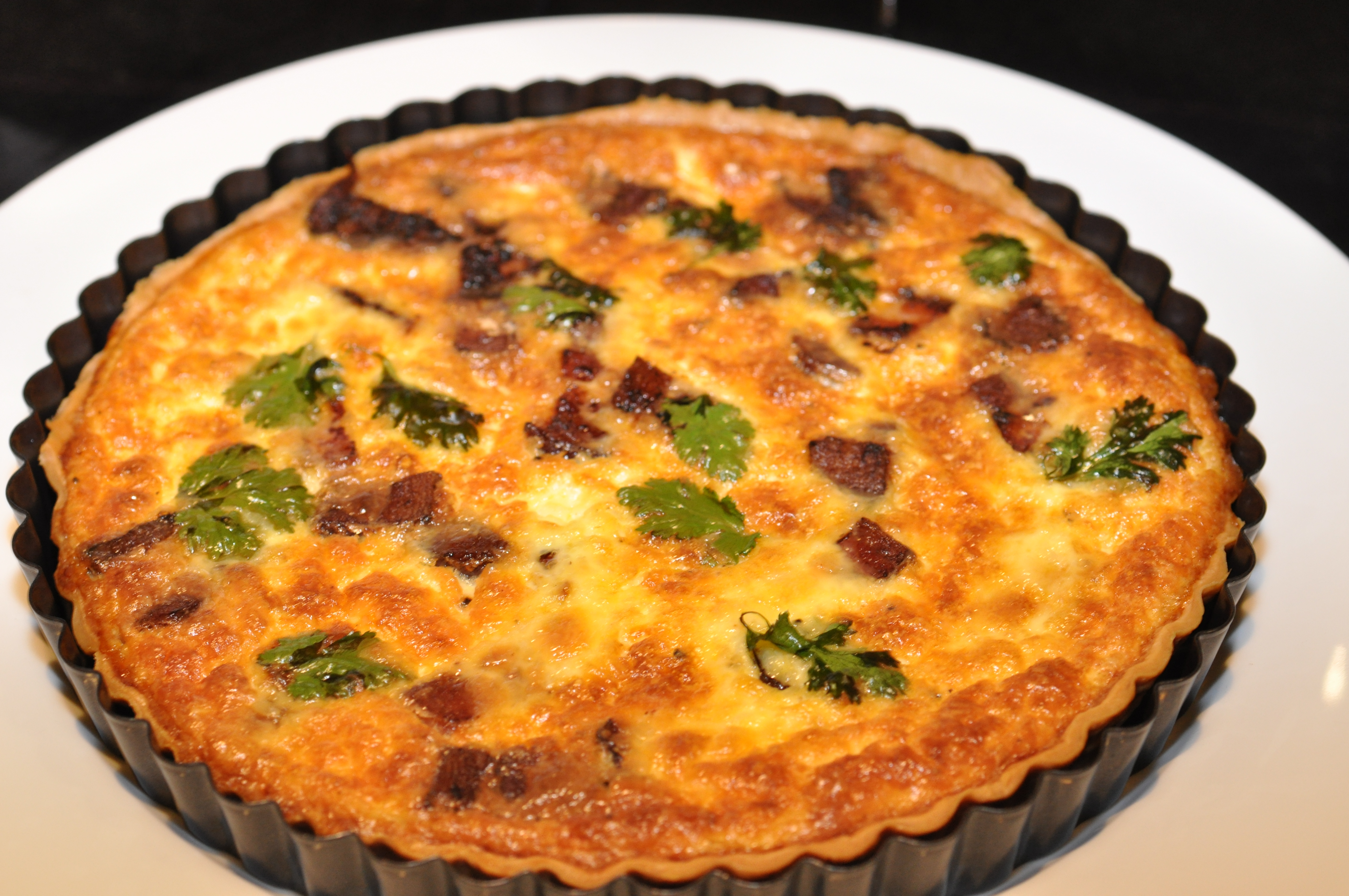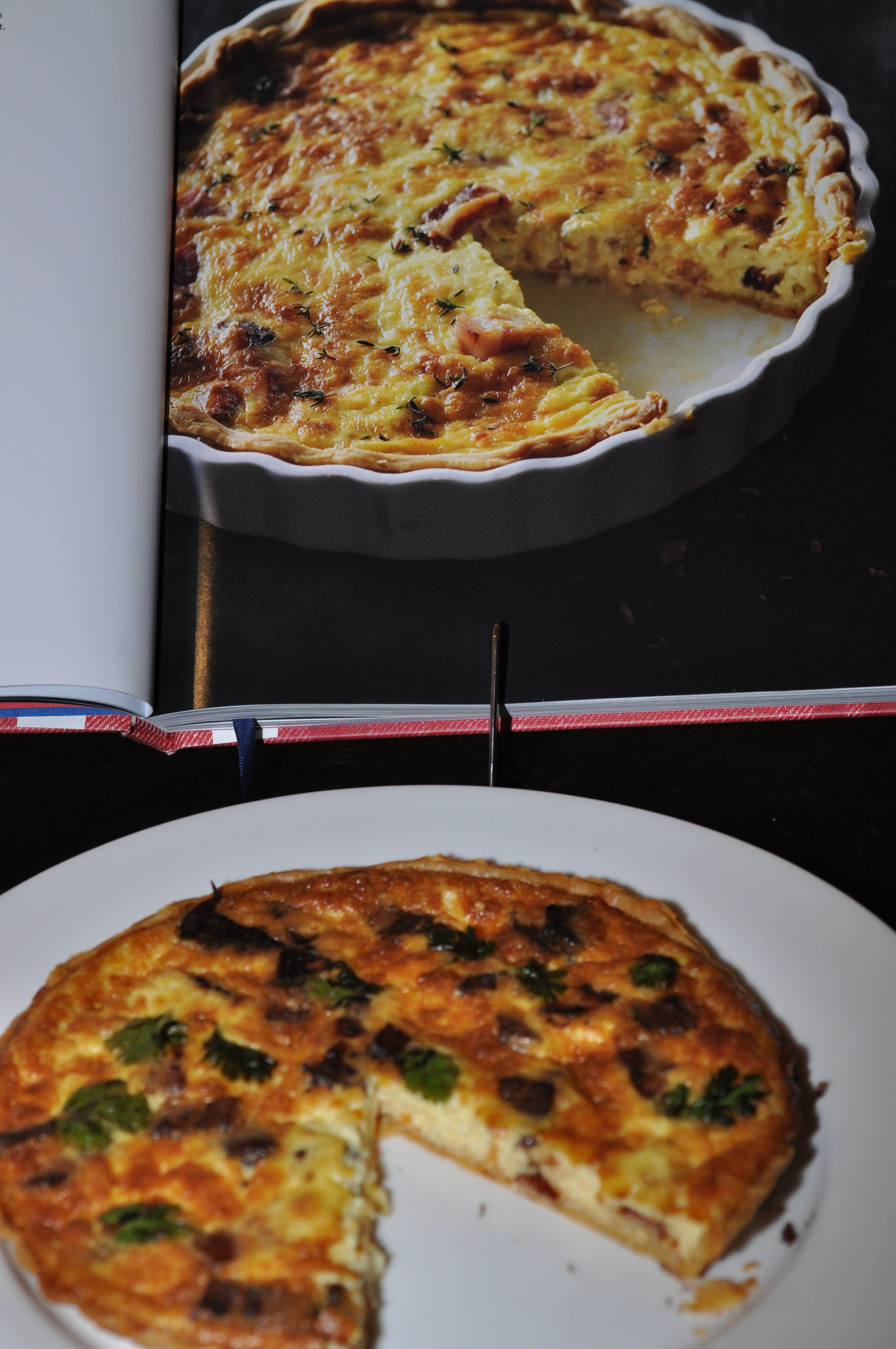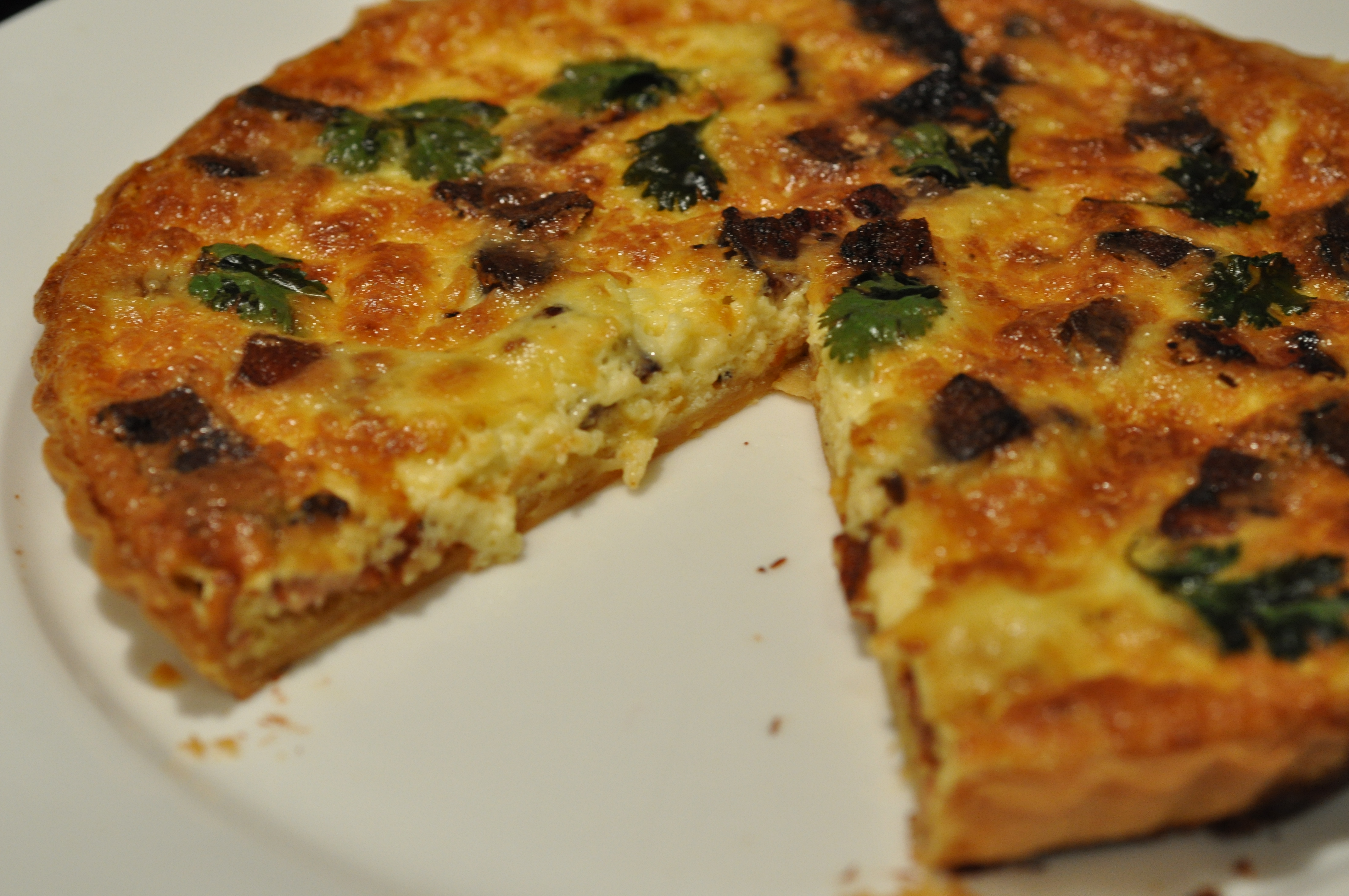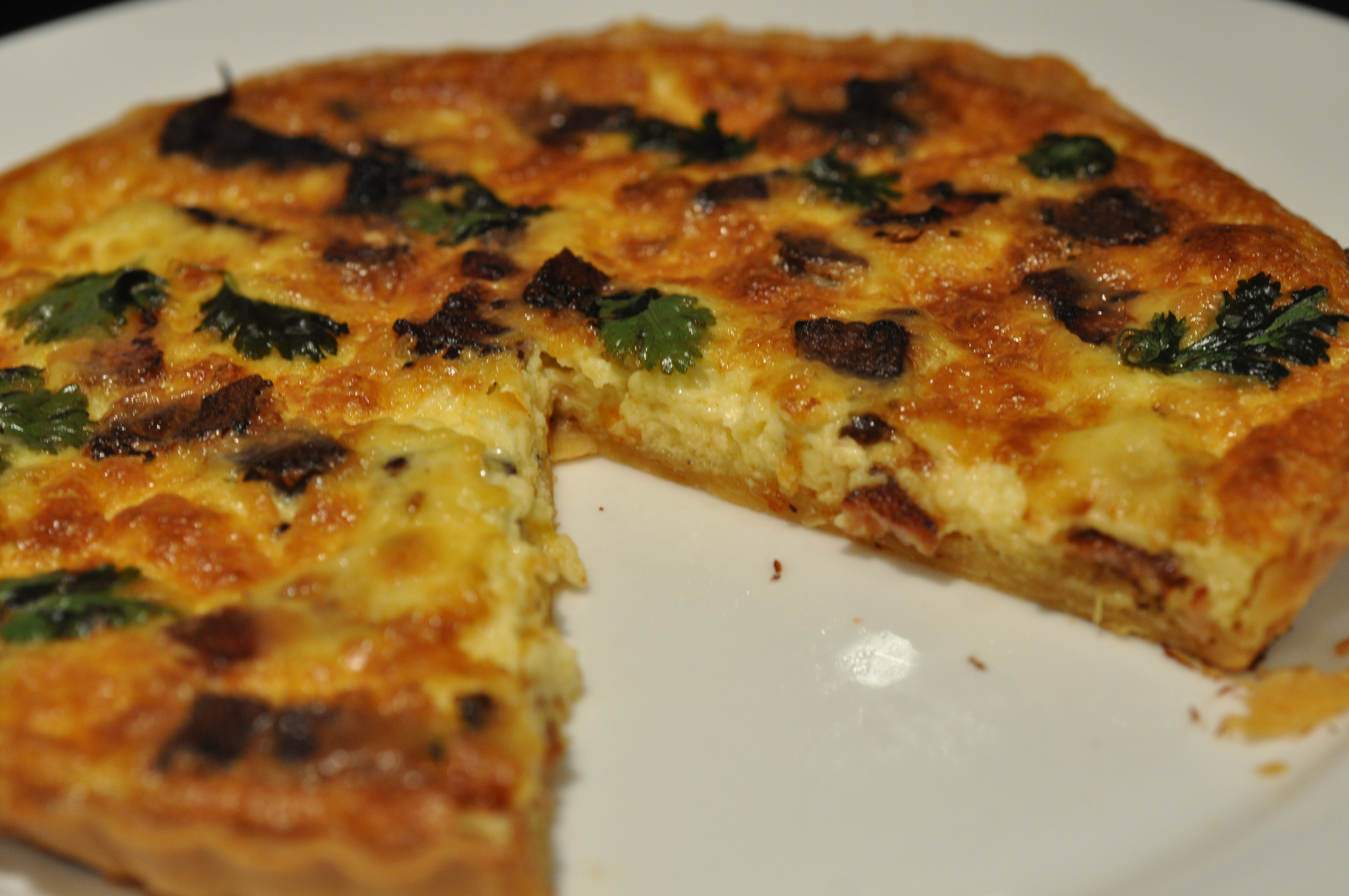 This tasted divine. Really rich and creamy. I will definately make it again. If you are Australian, into French food, are somewhat new to cooking and want to try your hand at French food then this is the perfect book for you.  The production values are pretty alpha male too so it makes an excellent present for the reluctant man in the kitchen.
My rating 4 stars.
Shopping
Always shop around. I bought my copy at Borders (now closing down!). At time of post I falso found good prices at: