My rating 4 stars
4 for styling/3.5 for content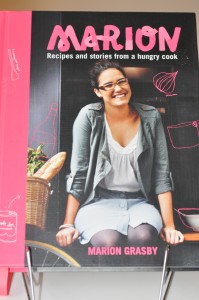 I absolutely loved Marion on the Masterchef series and dreamed of being her best friend forever!!
Obviously I desperately wanted to love her new book. Alas, it was not meant to be… does this make me a frenemy?
The book itself if gorgeously packaged and seems to reflect Marion's bubbly and cheerful personality. The introduction is pretty fascinating – Marion has Thai, Darwin and Victorian roots and spent a lot of time in Papua New Guinea. Her cuisine reflects this unique background. The food is a mix of familiar and exotic and arranged  into ways she would eat at home.  Its a really good approach and lets you adopt Marion's food lifestyle.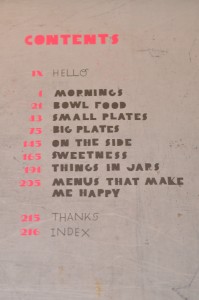 However, I was really disappointed to see NO recipes for Thai green curry or satay sauce (Marion's Achilles heel in the final Masterchef challenge). I'm a bit annoyed as these foods are part of her simmer sauce range so it seems a bit of a cynical exclusion.  Also, not all the recipes are photographed.  From the text, the food I wanted to make from this book included…
Goat's cheese and chorizo scramble (no photo)
Pork Spring Rolls with Sweet Carrot Dipping Sauce (below)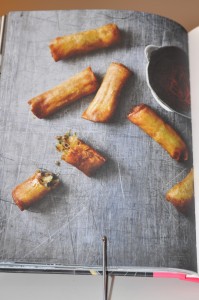 Chilli Mud Crab (below)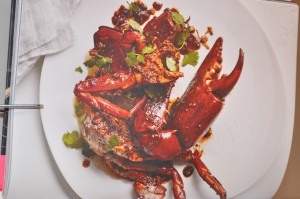 Confit Duck with Star Anise and Cherry Sauce (below)
Oxtail Ragu with Fresh Pappardelle (no photo)
Banana Fritters with Fish Sauce Butterscotch (no photo)
Marion also has a section called – Menu's that make me happy. These are pretty cute and include Take me to Thailand for Dinner, Summer lunching with a blast, When its cold outside…
There are also some innovative ideas such as flow charts for some recipes…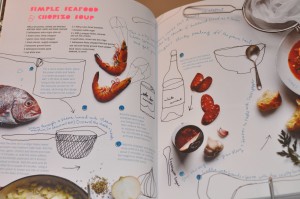 And some great photos of Marion doing her thing in Thailand…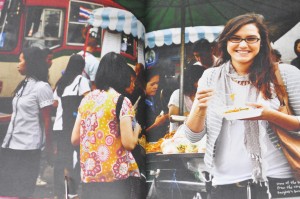 So how does this book actually cook?…
Roast Duck and Pineapple Curry by Marion Grasby

1 tbl vegetable oil
2 cups coconut milk
2 kaffir lime leaves, whole
1 chinese roast duck chopped into pieces (ask your friendly chinese barbecue vendor to chop the duck for you)
1 cup fresh pineapple roughly chopped
125g cherry tomatoes halved
1 tbl fish sauce or to taste
2 tble finely shaved palm sugar, or to taste
1/2 cup basil leaves
Steamed rice to serve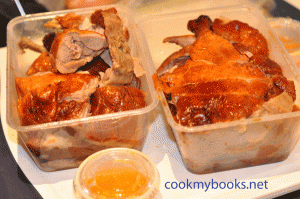 Tip: Yes you finally get to go to one of those Chinatown BBQ shops with ducks dangling in the window. It cost me $26.00 for one duck. When its cut up it fills 2 plastic boxes (plus you get a side of sweet plum sauce).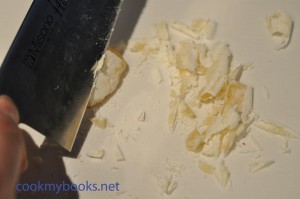 Tip: Palm sugar comes in solid lumps and you have to shave it with the edge of a sharp knife. Its like concrete. I find this difficult and boring so ended up dropping the blocks into the curry and letting them dissolve.

RED CURRY PASTE
10 dried long red chillies
1 tsp coriander seeds
1 tsp cumin seeds
1 tbl uncooked rice
3 red or golden French shallots, chopped
4 garlic cloves chopped
10cm piece of fresh ginger, unpeeled, roughly chopped
1 lemongrass stem, white part only, chopped
1 tsp sea salt
1 fresh long red chilli, chopped
2 tsp shrimp paste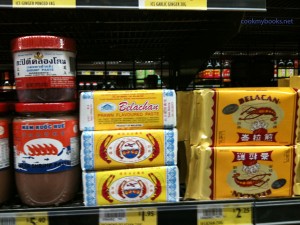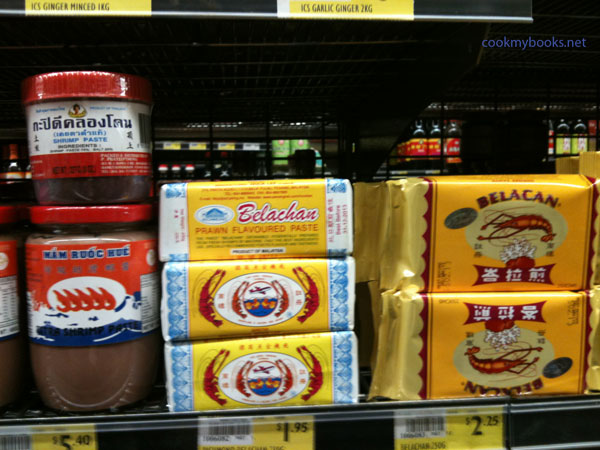 TIP: There are lots of "shrimp paste" brands in an Asian grocery (see my iphone capture above). I am really, really annoyed that Marion doesn't give any information about what shrimp paste to use or how to treat it. Poh's kitchen explains the use of Belachan (Malaysian shrimp paste) and the need to smoke it first.  Marion doesn't even have a glossary!!!!  I am shocked. I took a punt and bought the small jar made in Thailand.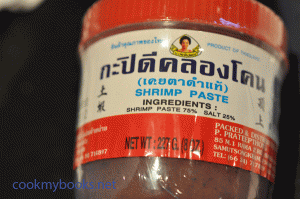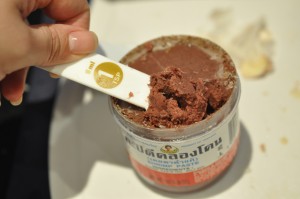 Warning: If Belachan is Satan's plaque, then Thai shrimp paste is like his rotting tongue scrapes. I stupidly spooned this "towards" me and a lump flicked down my top. I had to burn my clothes…
For the red curry paste, soak the dried chillies in warm water for about 20 minutes to soften. Drain and set aside. Meanwhile, heat a small frying pan over medium heat, add the coriander and cumin seeds and toast, keeping the spice moving n the hot pan, for a couple of minutes or until you can just smell their lovely aroma. Transfer to a mortar and use a pestle to grind to a powder. Add the rice, shallot, garlic, ginger, lemongrass and alt and pound for as long as your arms will let you.  Scoop everything into a food processor, add the dried and fresh chillies and the shrimp paste, and ive it a whizz until you get a smooth paste. Open the lid, step back, smell those heady chilli-spice aromas and pat yourself on the back. Homemade curry paste! (see notes).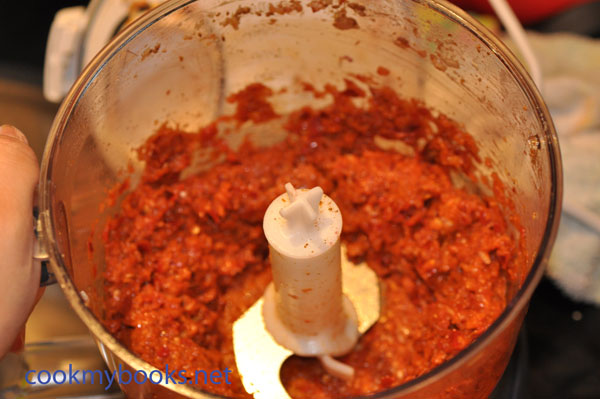 Note: I did not get a whiff of any spice whatsoever.
Now to make the curry. Heat the vegetable oil in a saucepan over medium heat, add 1/4 cup of the curry paste and cook for 1-2 minutes, or until you start to smell all that heady spice. Add the coconut and lime leaves and simmer for 1 min or so. Stir in 1/2 cup of water and bring it back to a simmer.  Add the duck, pineapple and tomato.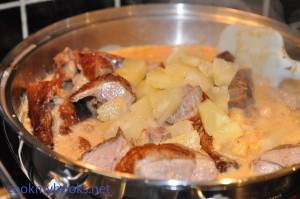 Simmer for about 5 minutes or until the duck is warmed through. Add the fish sauce and palm sugar. Have a taste and add more fish sauce or palm sugar to taste. Remove from the heat and stir in the basil leaves just before serving. Ladle over bowls of steamed rice to serve.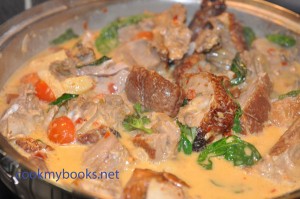 Note: I am really annoyed that Marion hasn't specified whether Thai basil or regular basil is used in this recipe. My first instinct was to go for Thai basil but some of the pictures in the book look like Italian basil when she uses the descriptor "basil". Anyway, I used Italian basil for this and it tasted ok.
serves 6
Marion's Notes: Palm sugar and shrimp paste are available from Asian grocers and in the Asian aisle of some supermarkets. Palm sugar comes in hard blocks and you'll need to run a sharp knife along its edges to finely shave it into soft sugar.
The red curry paste recipe makes about 1 cup but you won't need all of it for this dish. Store the leftover curry paste in an airtight container in the freezer for up to 2 weeks for another night's curry but do try to use it as quickly as possible as its flavour will diminish the longer you leave it.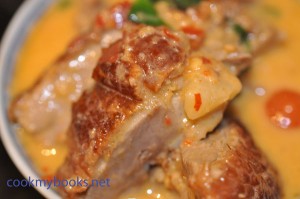 This curry has a consistency of a laksa or a soup as there are not starchy vegies involved. This is quite Thai though. Also its very very "un-hot" so for those that fear heat this is a great dish for you. Overall it tasted good but tasted better the next day when the kafir lime leaf and time to do its thing and the spices had more time to emulsify in the coconut fat.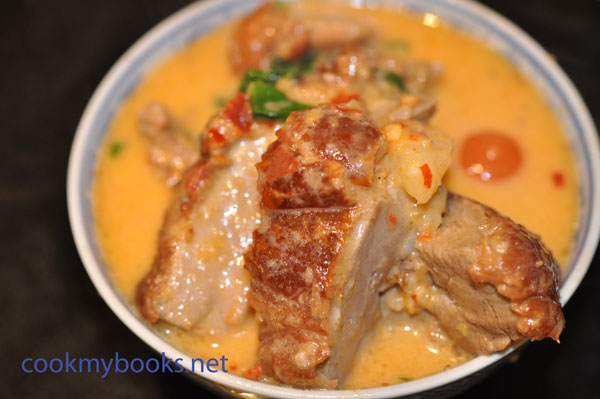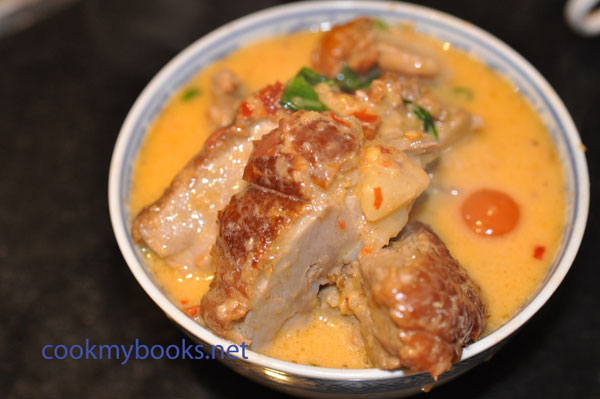 Overall it was a good Thai curry and has pretty wide appeal as its fairly mild and sweet.
For the book, I have to give Marion 4 stars.
4 for styling and text
3.5 for recipes
Cons: no glossary of exotic ingredients; no Thai classics such as green curry or satay (seems like these were saved for Marion's simmer sauce range); less than half of the recipes are photographed.
Pros: charming voice of Marion; cute hand drawings and how to flow charts for some recipes; diverse and tasty menus reflecting Thai, Italian and French foods; some nice photos of life in Thailand.
This is a great book for Marion's fans so long as there is one semi experienced Asian chef with knife skills in the household.
Shopping
Always shop around. I received a copy from the publisher but at time of post I found good online prices at