This is a super slim but information rich book written by Oliver protege "Cupcake Jemma".   I really like this book.  It's small, simple, but delicious.  The chocolate cupcakes were divine. More after the jump!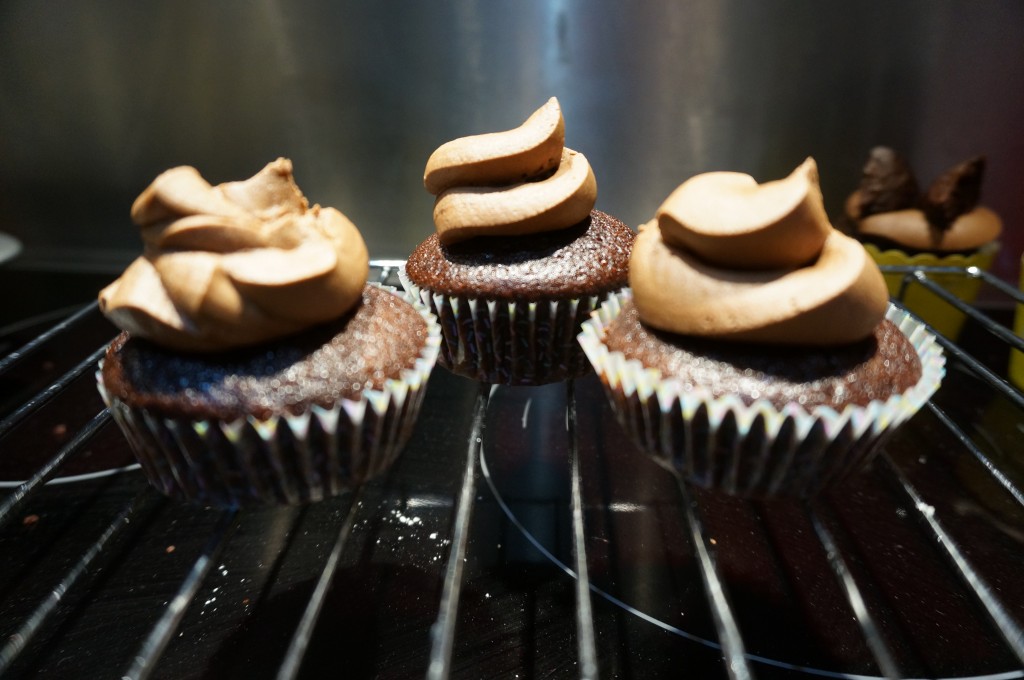 The 50 cakes (mostly cupcakes) include: basic recipes eg Vanilla or Chocolate and then seasonal cupcakes in flavours like Toffee Apple, Caramel Mudslide, Banana Maple and Pecan, Christmas Cupcakes, Banoffee Cupcakes, PB&J Cupcakes, Hot Cross Bun cupcakes, and Buttered Popcorn Cupcakes.  Amazing!!!
For a book that only cost me $12.95 it was great value.  Also appealing was the layout which had the ingredients on one side and simple instructions on the right.  I did have some trouble with making the icing but Cupcake Jemma and Jamie Oliver are so prolific there was a you tube video to help me out! https://www.youtube.com/watch?v=_-5NNytRLC0
But how does this book cook?
150g dark chocolate (70%)
350g plain flour
60g cocoa powder
370g caster sugar
1 teaspoon bicarbonate of soda
3 large free range eggs
240 ml coffee, cooled (see tip below)
240 ml buttermilk
210 ml vegetable oil
For the chocolate buttercream icing
180g dark chocolate (70%)
300g unsalted butter, softened
540g icing sugar
4 tablespoons whole milk
You need
2×12 hole muffin trays
With snug fitting paper cases
FOR THE CHOCOLATE CUPCAKES
Preheat the oven to 160C fan 350F /gas 4.  Finely chop the chocolate (this is best done in a food processor), then tip into a large bowl and stir in the dry cupcake ingredients and ½ teaspoon of fine sea salt.  Whisk the wet cupcake ingredients together in a separate bowl with an electric mixer, then gradually add to the dry mix, whisking until smooth.  Transfer the mixture to a small jug (you'll need to do this in batches), and carefully fill the paper cases just over two thirds full.  Bake for 20 mins, or until they spring back when touched.  Leave to cool, transferring to a wire cooling rack after 5 minutes.
FOR THE CHOCOLATE BUTTERCREAM ICING
Melt the chocolate in a heatproof bowl over a pan of simmering water, making sure the base doesn't touch the water, then cool for 5-10 minutes – the bowl should be just cool enough to handle.  Meanwhile best the butter with an electric mixer for 4 – 5 minutes or until pale and smooth.  Sift the icing sugar into a bowl, then add to the butter in two stages, beating well after each.  Gradually add the milk and beat for a further 5 minutes or until well combined.  Pour in the melted chocolate bit by bit mixing as you go, then beat for a couple of minutes or until icing is a rich even chocolate-brown colour.  Once the cupcakes are cool, decorate them with the icing and enjoy.
TIP if you don't have freshly brewed coffee, simply mix 1 tablespoon of instant coffee granules with 240ml of hot water instead.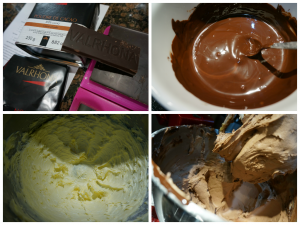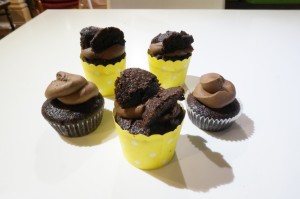 You can buy this book everywhere: