My rating: 5 stars

Adam Liaw is the thinking woman's crumpet – warm, airy and a bit stodgy in the middle. There are no less than 8 pork belly recipes in this book!!
As to be expected from this cerebral prodigy, it is a really, really smart book. As someone with a Chinese/Malaysian/Aussie background I really appreciate the homage to the old style favourites in part one – "The Old Kitchen". I don't think there are any books out there that combine Chinese, Malaysian and Japanese foods with their individual signature dishes and in a "fusion" sense. Part one gives you the recipes for dishes that you've probably eaten before and devoured such as…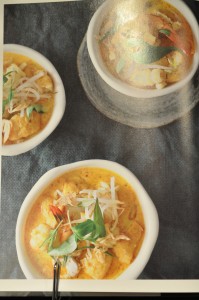 Laksa Lemak (coconut laksa)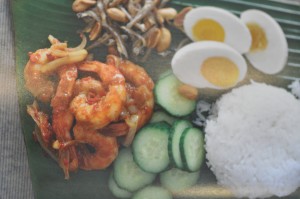 Nasi Lemak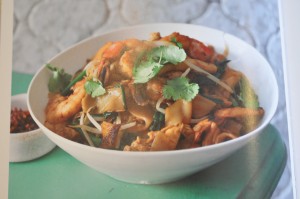 Seafood Char Kway Teow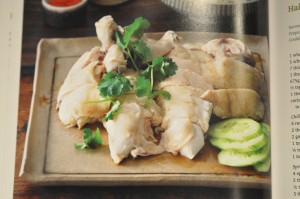 Hainanese Chicken Rice
The Hainanese Chicken Rice is the dish that Adam encourages you to try first. However what really annoys me is that the final step is to cut the chicken "Chinese Style" but he gives no instruction as to what that means. I find this an annoying omission as Adam has step by step illustrated instructions on how to make dumplings and how to stir fry in a wok etc.
Nevertheless, I appreciate that Adam does try to explain the basic – eg how to fold a dumpling as well as the complex. It is the first cookbook I've read that tries to explain "wok hei" or breath of the wok in terms of "Maillard reactions". When he talks about Vietnamese Pho (noodle broth), he says that "sulphur compounds in the grilled onion combine with star anise to give the broth a meaty umami flavour". It's refreshing to me that in each pre-recipe blurb Adam gives a sense of place and history for each dish and adds a touch of cerebral Adam with comments like the above.
It's no surprise that Adam really shines when sharing recipes in "The New Kitchen", or part 2 of the book.  This is no cynical pan-Asian/ Asian fusion novelty book but a real genuine homage to these great cuisines. My favourite innovative dishes from part 2 include: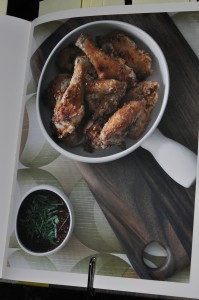 Laksa Fried Chicken
Rum and Lemongrass Pork Belly
The biggest surprise though is that Adam Liaw has somehow made Asian desserts seem appetising! There are some great recipes for classics and fusion desserts with a twist including…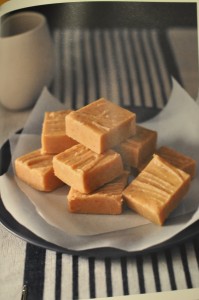 Red bean fudge
Mango Pie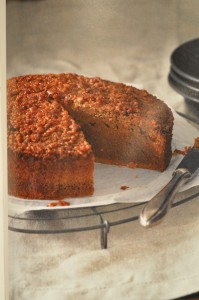 Ant's nest cake (a classic)
Mango Pudding – a yum cha favourite here made with real mangos (as opposed to the Food Safari recipe)

So how does this book actually cook?
I decided to make Rafute which is a Japanese pork belly dish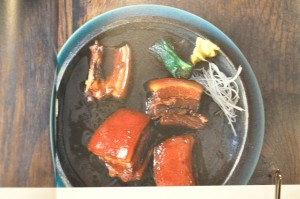 Ichiban dashi (stock/broth)
1 sheet (10cm square) kombu (dried kelp)
40 g katsuboshi (dried bonito flakes)
1. using a dried cloth, wipe any visible dirt from the kombu but be careful not to wet it or wipe off any of the white powder on the surface
2. Put the kombu and 1.5 litres of water in a saucepan over medium heat. When the water starts to bubble at the bottom of the pan turn off the heat, remove the kombu and add the katsuboshi. Leave for about 30 minutes until the katsuboshi sinks to the bottom.
3. Strain the dashi (the broth) through a fine muslin without squeezing the flakes. The dashi is best used as soon as possible but it will keep in the fridge for a week or so.
Rafute by Adam Liaw
"The most famous of Okinawa's wonderful pork dishes is Rafute"
500g boneless pork belly
250 awamori (or 160ml sake and 80ml whisky)
125 dark soy (note this is often called mushroom soy – its thicker and blacker than regular or light soy)
110 caster sugar
125ml mirin
250 ml ichiban dashi
6 thin slices ginger
1. Place the pork belly in a saucepan with plenty of cold water. Bring to the boil, then pour off the water. Run more cold water into the pan with the pork, making sure it is completely submerged. Bring to the boil again, then reduce the heat to a simmer. Partially cover the pan and simmer for 1 hour.
2. Remove the pork from the poaching water, keeping 250 ml of the water. Cut the pork into pieces about 7cm long and 3-4 cm wide.
3. Put the pork poaching water, awamori, soy sauce, sugar, mirin, ichiban dashi and ginger in a small saucepan and add the pork pieces (they should be completely covered). Bring to the boil, then reduce the heat to a simmer. Cover the surface with a cartouche to ensure the pork remains submerged and simmer for 1 1/2 hours until the pork is meltingly tender but still holds its shape. Remove the cartouche and the pork and simmer the liquid for 10 minutes until the sauce reduces slightly and becomes glossy.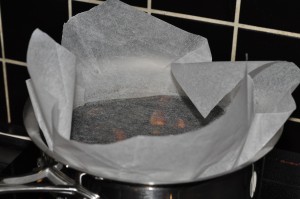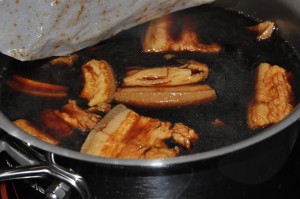 4. Meanwhile, trim away the tough outer layers of the leek and cut in half lengthways. Finely shred and put into iced water to curl.
5. Serve cubes of pork with a good amount of sauce spooned over the top. Garnish with a smear of mustard and a small pile of greens. Top with the curled leeks.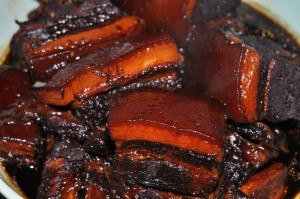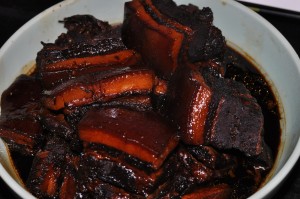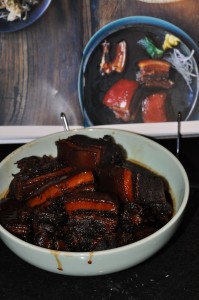 This was one of the most delicious pork belly dishes I've ever had. The dashi broth really does add another level of flavour ie the elusive umami. The fat renders into a velvety tissue which melts in the mouth. The sauce isn't as sickly sweet as other recipes (click here for Alvin's recipe) so the temptation to eat the entire pot was huge.
I love this book. For anyone who loves Asian food then this book is an absolute must. It is richly informative without being overwhelming. And like Manu's book, this one has a lot of male styling which should appeal to the alpha male crowd. The recipes aren't completely dumbed down but they are simple enough for the moderately experienced cook.  You also need a trip to an Asian specialty store for some of the ingredients but its all so worthwhile.
I wish there was more on Adam's website on how to cut up a chicken etc similar to Poh's book. This is a small gripe though.
This debut book from the Masterchef 2 winner is a triumph.
My rating 5 stars
Shopping
Always shop around. I received this book gratis from the publisher (which did not affect my rating). At time of post I found good online prices at