My rating: 3 1/2 stars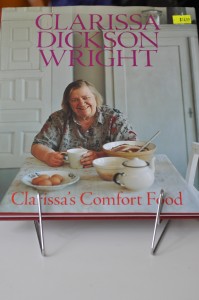 In my quest for "Great British Food" (a fool's quest to some and an oxymoron to many) I stumbled upon "Clarissa's Comfort Food" in a discount bookshop.
Clarissa Dickson Wright is the fair, non-smoking half of the Two Fat Ladies.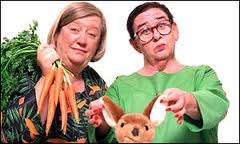 Anyone whose stage name had the word "fat" in it has to know how to cook "comfort food".  So when I saw the words "Comfort Food" with Clarissa's jowly face trying to smile at me (yet looking strikingly like Hagrid's idiot cousin), I knew this was the book for me.
Pros: Lots of butter and cream Very delicious sounding food. Makes me think of British food as quite exotic.
Cons: Lots of butter and cream. Very hard to find some of these ingredients in Australia. Very dated production. Light on pictures
I love the absence of green interrupting the golden hills of potatoes cooked in butter. I love the heavy use of cream, lard and cheese. I even love the fact that I can't find a lot of   the ingredients eg suet, pheasant, venison – because the recipe names hark back to a different world and time.  It reminds me of the Enid Blyton childhood of my dreams.
Clarissa gives a little history blurb with each recipe which are unintentionally amusing.
"… surely nothing can equal the joy of being served this most traditional of dishes particularly on a cold day after some invigorating outdoor activity."
What kind of "invigorating outdoor activity" does Clarissa Dickson-Wright ever do? I guess she probably shoots her own game.
Recipes include: porridge, kipper and caper pie, chestnut soup, potted crab, kedgeree, fish pie, beef stew, steak and kidney pudding, Cornish pasties, shepherd's pie, Irish stew, gooseberry fool, rice pudding, bread and butter pudding, treacle tart… Hearty British fare. If you want to cater a Hogwarts party then this is where you start.  Here are some snaps from the book…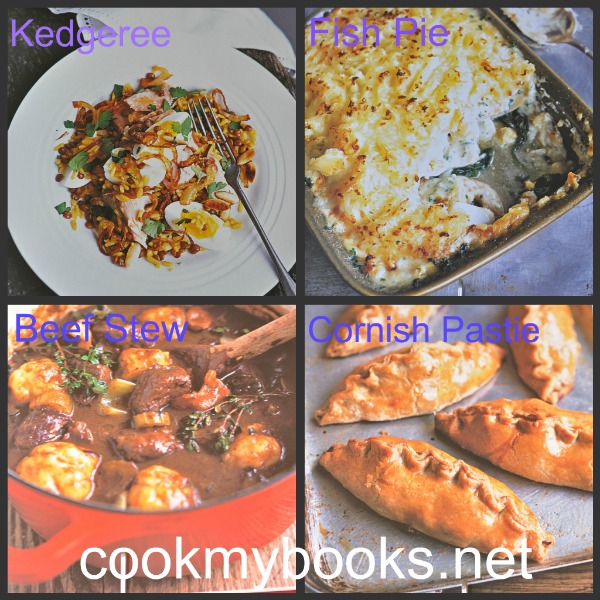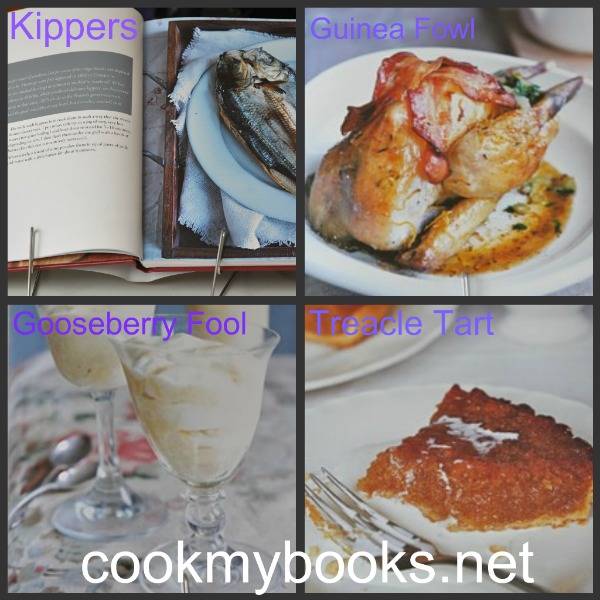 So how does the book actually cook?
Pommes clarise by Clarissa Dickson Wright
1 kb potatoes
125g butter
Salt fresh pepper
Fresh nutmeg
650 double cream
2 tomatoes
Thyme
Peel and slice your potatoes to the thickness of a 10 pence piece.  Wash well in several changes of cold water to remove the starch then pat dry.
Butter an ovenproof dish and put in a layer of potatoes. Season with salt, pepper and nutmeg, and dot with butter until the dish is half full, then pour on half the cream.
Continue the process and then pour over the rest of the cream.  Punt into a medium oven under the roast and cook for 1-1.5 hours depending on the heat of the oven. (That is, if the roast is at 160C/325F/Gas3, give the potatoes 1.5 hours; if at 180C/350F/Gas 4, 1 hour.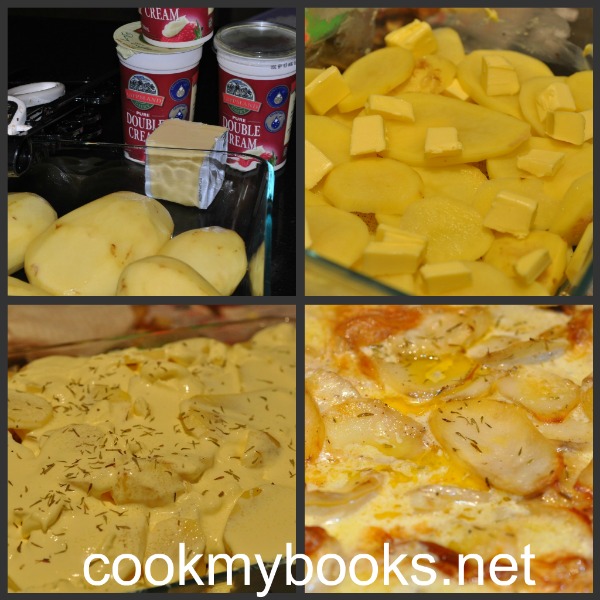 The potatoes tasted nice but very rich. Mum took home the leftovers only after my brother suggested she "drain" them first.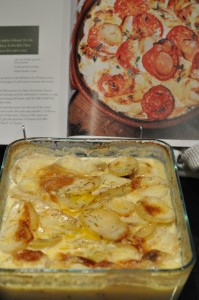 They tasted ok but were a bit too aldente after 1.5 hours of cooking time. The potatoes didn't really absorb the cream. Perhaps they got too saturated or were the wrong type for this dish. This dish tasted just ok. If I sound hard hearted its probably because I literally am.
This book is fun to read but the ingredients can be pretty exotic.  Strangely I find it easier to buy Asian spices than it is to buy English Mace.
The recipes are really simple and no-nonsense and are things that I think the average British housewife/husband would love to cook for their families. However, I found it really hard to choose a recipe to sample because there was usually one ingredient which I didn't know or wasn't available.
All up 3.5 stars
Shopping
Always shop around. I found mine in a discount bookshop but also saw a cheap copy on line at AbeBooks here: