My rating 5 stars!!
Click to buy at Fishpond: Asian After Work: Simple Food for Every Day
The only 'easy' Asian cookbook you'll ever need. – AMAZE-BALLS!!
Read more after the jump!
I absolutely love this book.  Its more pan-regional than his first cookbook and is as the title suggests, an 'after work' cookbook. We are so lucky to have someone like Adam in our culinary lives.  As most of you know, the Masterchef champion is a Malay-Sing Chinese brought up in Australia who also lived in Japan.  He is uniquely qualified to recommend great Asian food that can be prepared simply in a regular Aussie home.  As someone with a similar background I can tell you that Adam has picked the yummiest and most moreish foods from Malaysia, Singapore, Korea, Hong Kong, China and Japan and presents them in easy to follow recipes.  He also has suggestions in weekly menus and menus by theme eg "Izakaya bar" or "Phoenix banquet".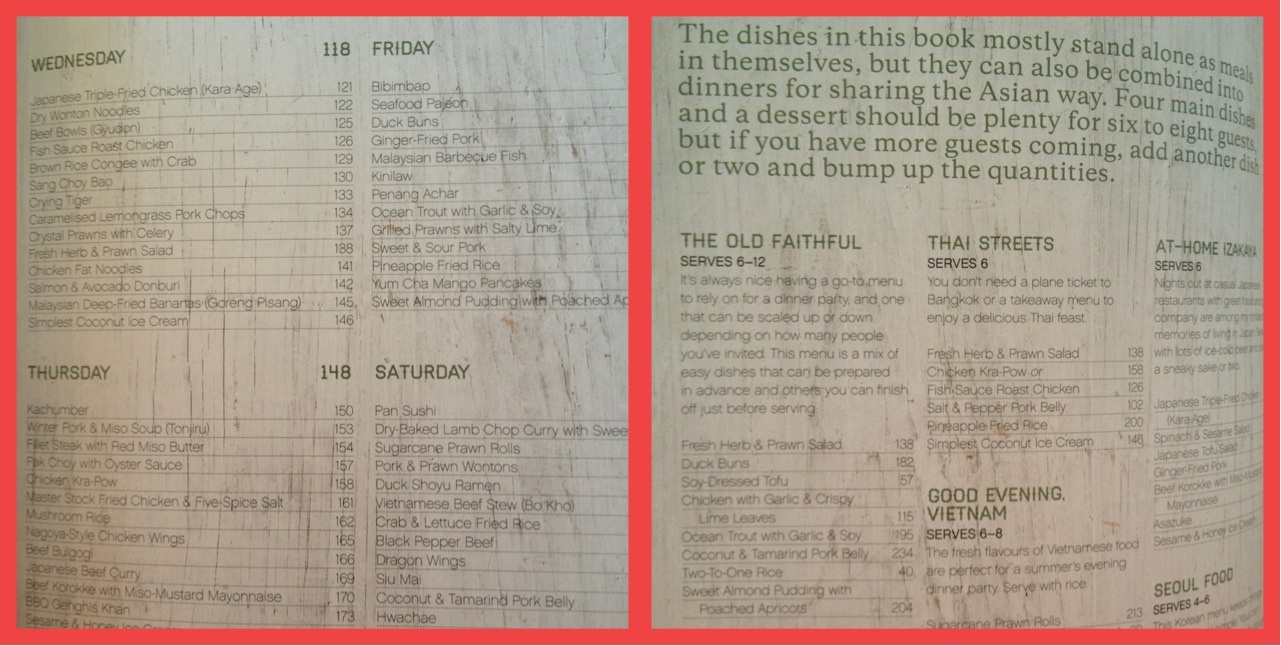 A lot of care has been put into this book and there is a little blurb of musings/cultural commentary prefacing each dish. There are also serving sizes, prep and cook times and tips with each recipe.
Adam also puts his own spin on favourites such as "brown rice congee", and "Duck buns".
Here's a sample of what's inside. I want to make all of these and I can get all the ingredients from my supermarket!!


Pineapple fried rice; Pan Sushi; Siu Mai




But how does this book cook?
I made the Soy-Dressed Tofu
1 Block (300g) silken tofu
2 tsp peanut oil, or other vegetable oil
½ brown onion, peeled and diced
2 cloves garlic, peeled and roughly chopped
Pinch of salt
Pinch of caster sugar
1 tsp dark soy
1 medium spring onion, white and light green parts, trimmed and thinly sliced to serve.
Turn the tofu out onto a double layer of kitchen paper (you may need to run a knife around the edge of the packet).  Wrap the tofu, put a plate on top and let it stand for about 20 mins to press out any excess water.  Transfer to a serving plate.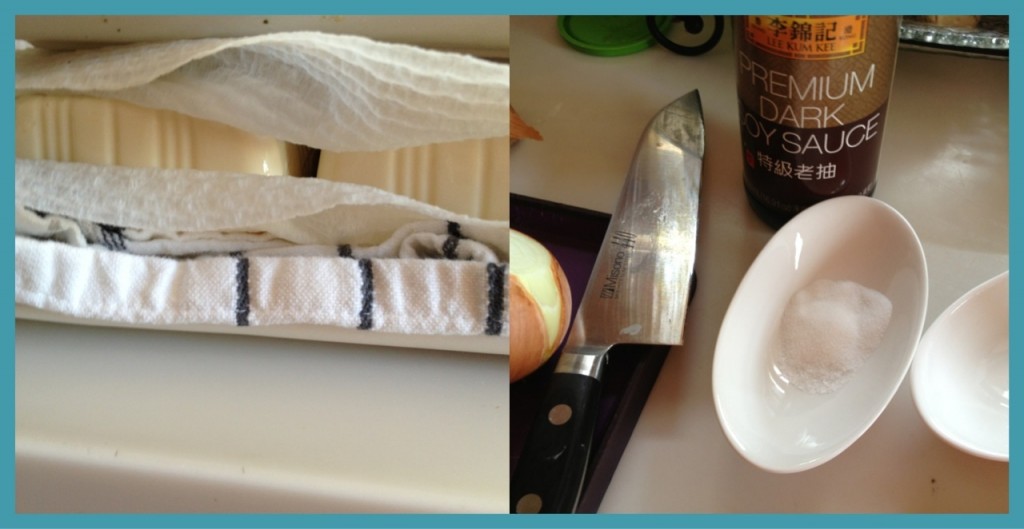 In a small frypan, heat the oil and fry the onion first, adding the garlic and salt after about 30 seconds.  When the onions and garlic  are starting to brown, sprinkle over the sugar and continue to fry until the onion and garlic are caramelised in the sugar.  Remove the pan from the heat, stir through the dark soy sauce and pour everything over the tofu.  Scatter with the spring onion and serve immediately.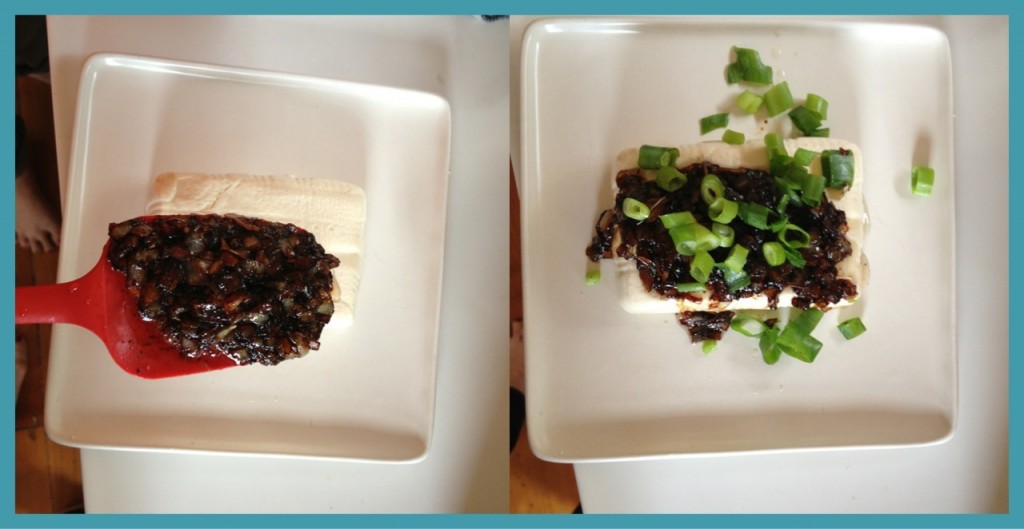 My mother said Adam's version tasted better than a restaurants! This is high praise from that tofu addict.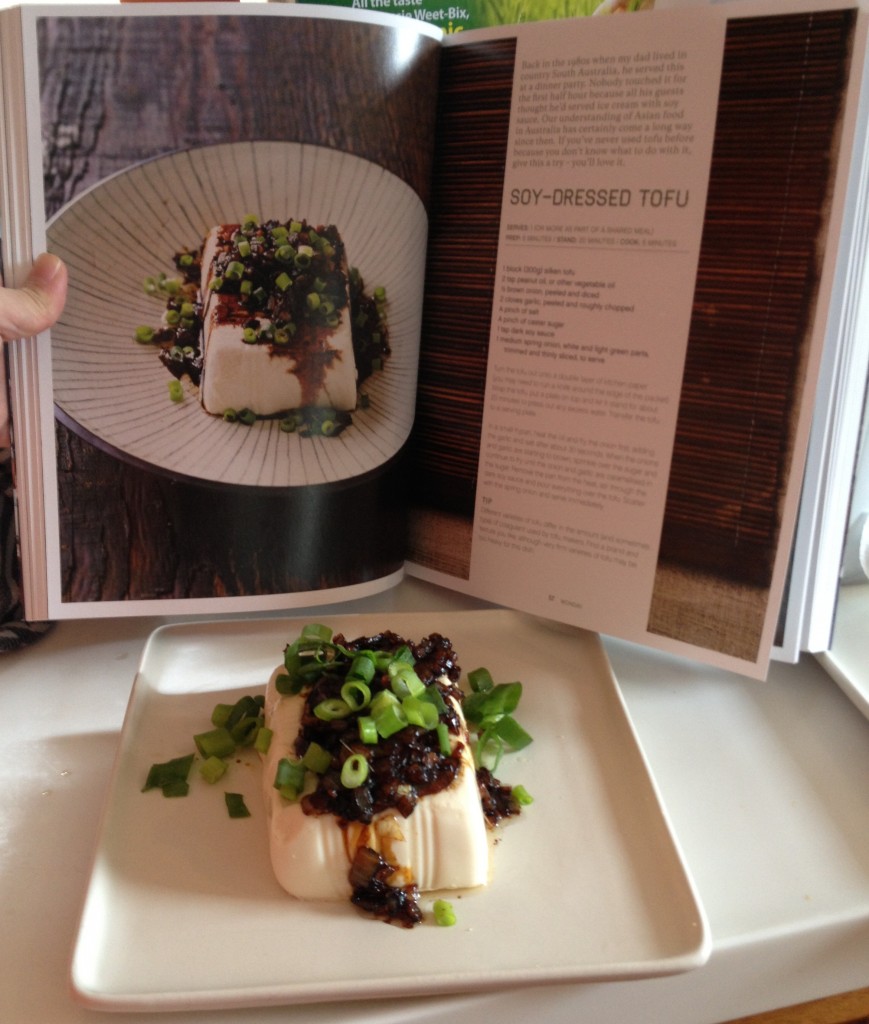 Buy this book today!

I received my copy gratis but you can click to buy at Fishpond: Asian After Work: Simple Food for Every Day