Easy to make, authentic cuisines adapted for the average kitchen.  This curry was AMAZING.  
4.5 stars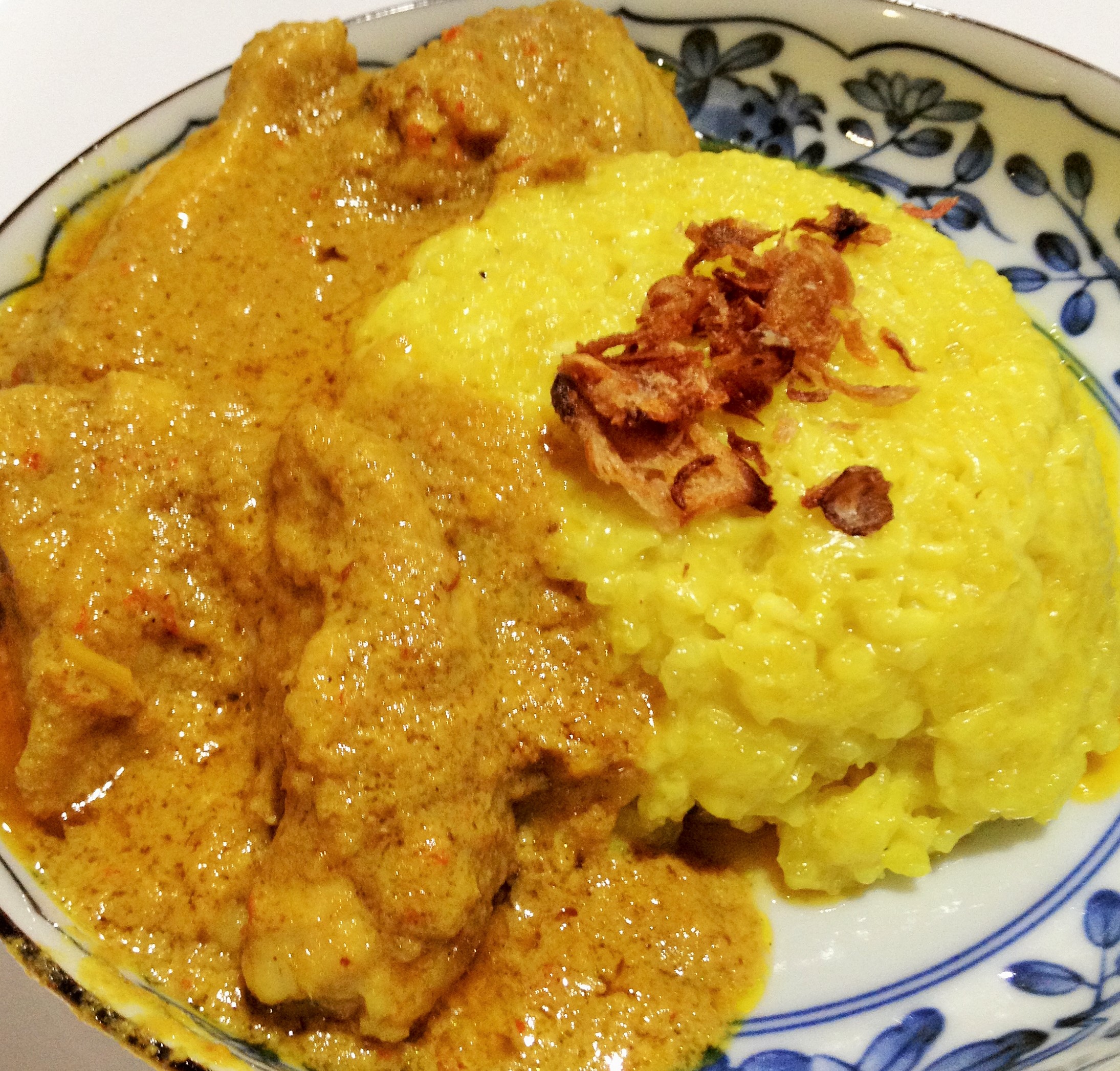 But how does this book cook? I made the Kari Ayam Kelapa (Chicken Curry with Roasted Coconut) and the Nasi Kunit (glutinous tumeric rice).
More after the jump.
Charmaine Solomon is rightfully credited as the author that brought authentic Asian cuisines into Australian kitchens.  A Margaret Fulton for the Chinatown set.  Her classic book "The Complete Asian Cookbook" has been updated for a modern audience.  It still includes fascinating details on how to create your own coconut milk and describes how she picked up her recipes from local chefs and housewives.  Its funny to remember that in the 1970s coconut milk was hard to find in Australian supermarkets.
The book has also been divided and sold by country (I saw these at Costco).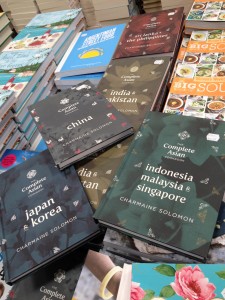 Internally there isn't a lot of glamour. There are very few pictures.  This is compensated by a wealth of recipes.  It does help however to have some cooking (or eating) experience so you know what your end point is supposed to look and taste like.  The recipes are also very pantry friendly so many recipes use packet ground spices as opposed to freshly toasting and grinding your own.  That said, the curry I made was pretty tasty.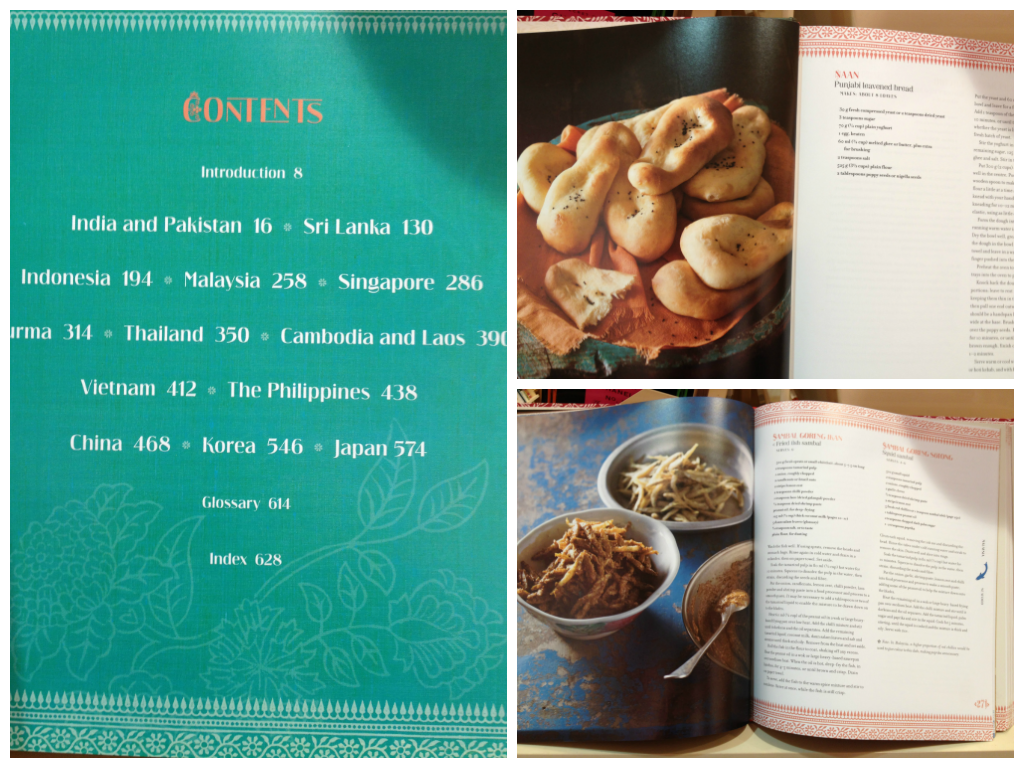 This is the perfect book for the home cook that loves Asian food. Many recipes are based on Asian home kitchens so the food is pantry and Aussie supermarket ready.  The book includes: India and Pakistan, Sri Lanka, Indonesia, Malaysia, Singapore, Burma, Thailand, Cambodia and Laos, Vietnam, The Philippines, China, Korea and Japan.  It's the only book I've seen that has such a comprehensive list of Asian cuisines.
The curry I made was AMAZING but the rice was mushy and overdone.  For the rice I prefer the absorption and steaming method rather than the boiling method.
Kari Ayam Kelapa (Chicken curry with toasted coconut) serves 6
1.5 kg (3lb 5 oz) whole chicken
4-5 fresh red chillies
45 g (1.5oz/1/2 cup) desiccated (shredded) coconut
500 ml (17fl oz/2cups) thick coconut milk
2 onions, roughly chopped (I think she means shallots ie small French onions)
3 garlic cloves
1 teaspoon dried shrimp paste
1 teaspoon ground turmeric
1 tablespoon ground coriander
2 teaspoons ground cumin
1 stem lemongrass, sliced or 2 strips lemon zest
60 ml (2floz/1/4 cup) peanut oil
2 teaspoons salt
8 daum slam leaves (I used curry leaves)
2 teaspoons laos (dried galangal) powder
Join the chicken (see earlier page in book otherwise I used thigh fillets) and cut into curry pieces.  Soak the chillies in hot water for 20 minutes. Drain well.  Put the coconut into a wok or large heavy based frying pan over medium heat, stirring constantly, until it becomes a rich dark brow.  Remove to a plate.
Put the coconut into a food processor and process to affine powder, then add 125 ml (4floz/1/2cup) of the coconut milk and process for 1 minute (in Asia fresh coconut would be roasted over colas and the nut meat then ground to a paste on a grinding stone).  Remove the coconut mixture to a plate, and without washing the food processor, add the chillies, onion, garlic, shrimp paste, turmeric, coriander, cumin and lemongrass.  Process to a puree, adding 1 tablespoon of the peanut oil, if needed.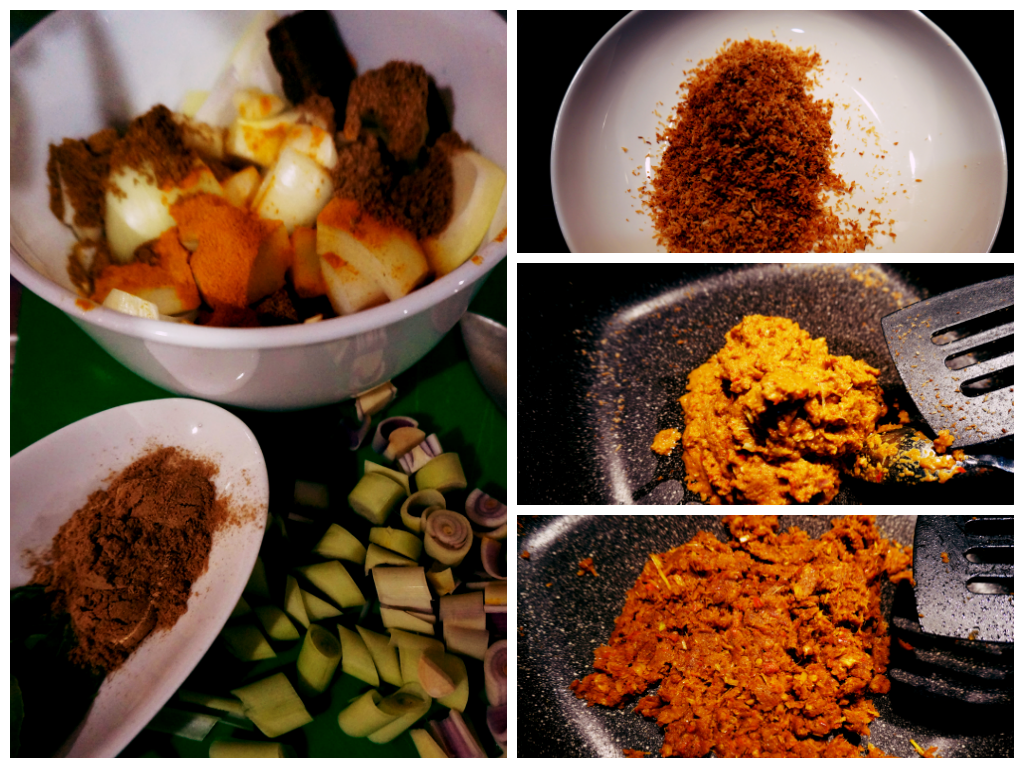 Heat the remaining oil in a clean wok over low heat.  Add the onion mixture, stirring constantly, until the moisture evaporates and the oil separates.  Add the ground coconut, coconut milk, salt, daum salam leaves and laos powder and stir well.  Add the chicken and stir gently, then simmer for 1 hour, or until the chicken is tender and cooked through.  Serve with rice and other accompaniments.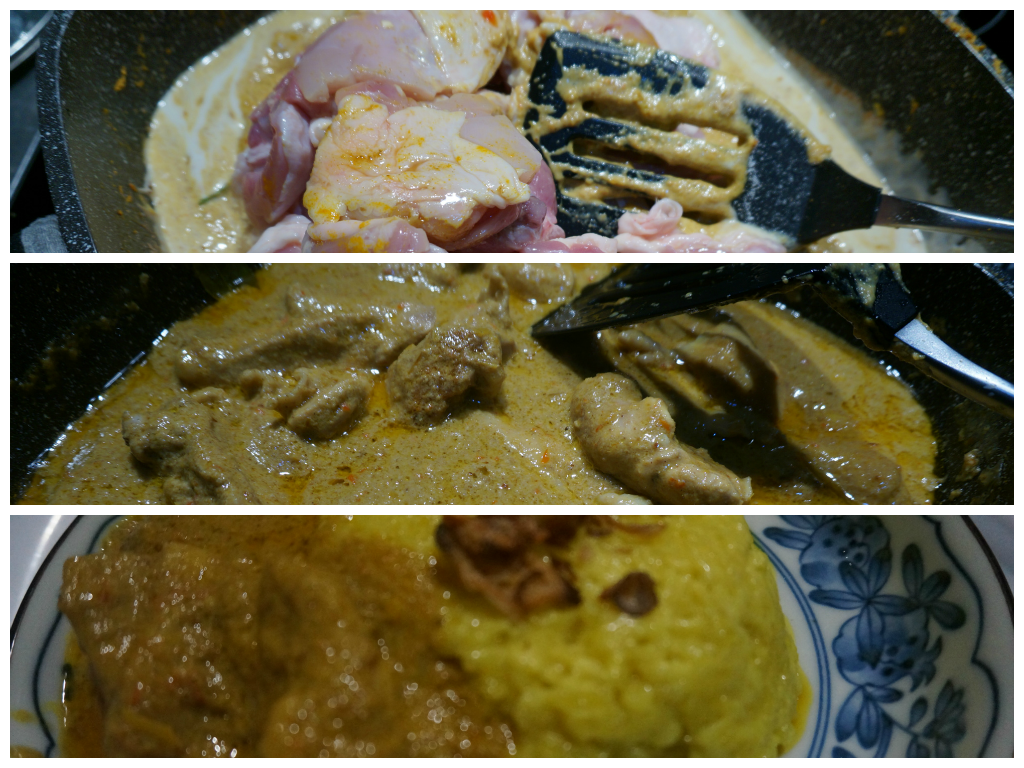 Nasi Kunit – sticky turmeric rice
450 g (1lb/2 ¼ cups) glutinous rice (pulot)
2 tsp salt
1 garlic clove crushed
1 teaspoon ground turmeric
½ teaspoon freshly ground black pepper
1 pandanus leaf
500 ml hot coconut milk
Fried onion flakes to serve
Wash the rice well and drain in a colander for 30 minutes.  Put the rice into a saucepan with 500 ml water.  Add the salt, garlic, turmeric, pepper and pandanus leaf for flavouring. Bring to the boil, then reduce the heat to low, cover, and steam for 10 minutes.  Uncover, add the coconut milk (which should be very hot) and stir gently with a form.  Re-cover and cook for a further 10 minutes or until the rice is tender.  Serve the rice garnished with the onion flakes