This is a book I wish I'd been able to produce.  The editors have gone on a nationwide journey and asked 100 of Australia's top cooks, chefs and foodies for their favourite home recipes.  This book has so many stars and unsung heroes in it you will find something that suits your abilities and your palate.
eg Maggie Beer – makes something with quince (or vino cotto); Margaret Fulton – makes something with a sponge cake; Zumbo – makes something really difficult.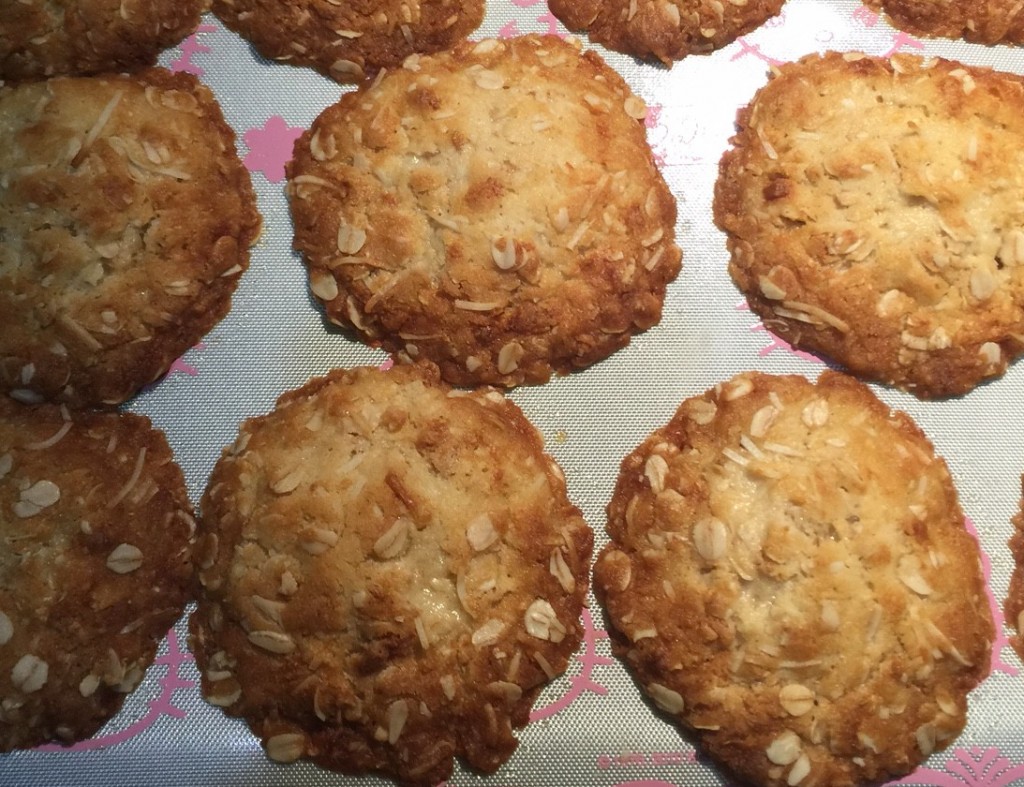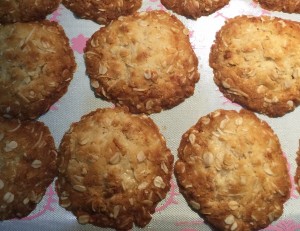 Read More After the Jump!
Here is a snapshot of the contents page and some photos of the stars within.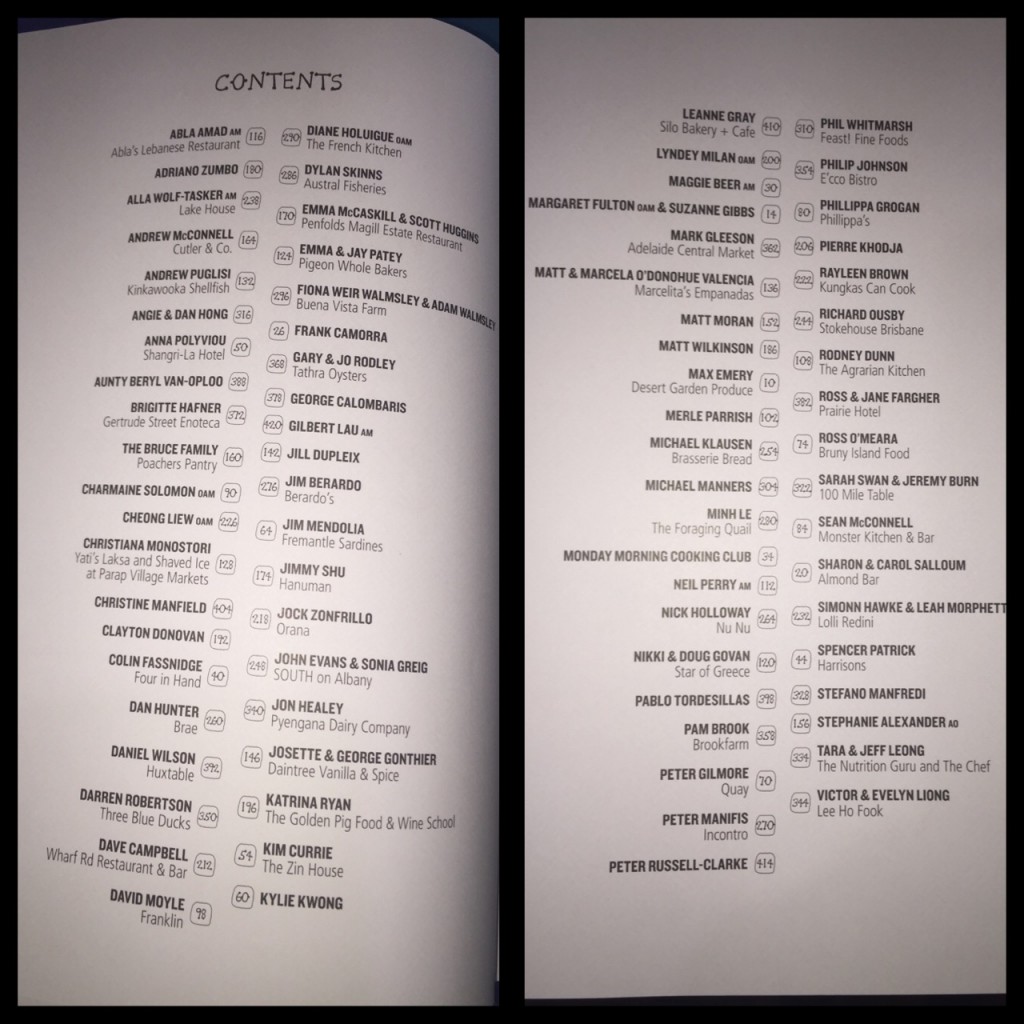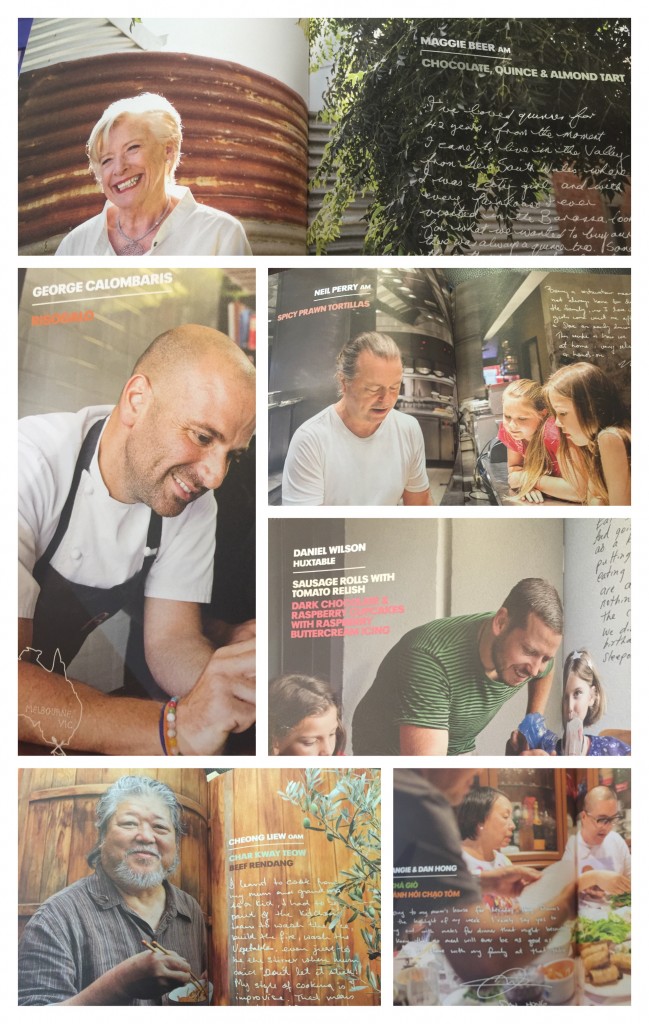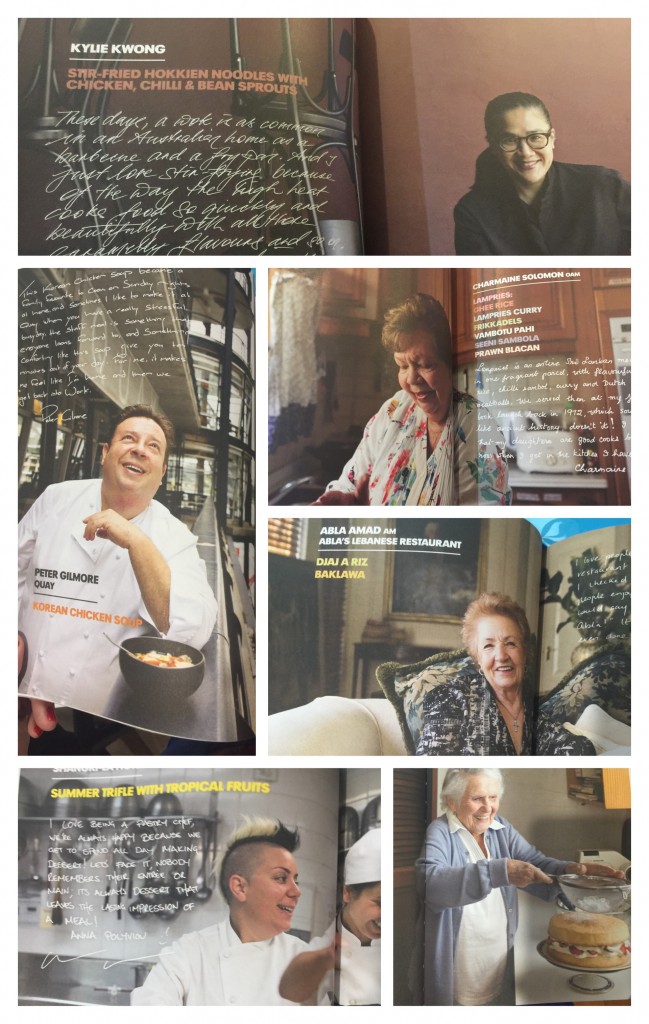 Overall I really like the layout and the photography. There are nice little vignettes from most of the chefs and a good range of voices from food writer (Jill Dupleix) to Peter Gilmore of Quay restaurant.  The contents really demonstrate what a food loving, multicultural food loving people we are.  To really test this book , I decided to go back to basics and make Merle's / Susan Boyle (CWA champion and unexpected Masterchef star) ANZAC biscuits.
ANZAC Biscuits by Merle Parrish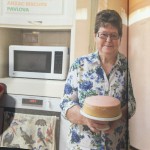 Ingredients
1 cup plain flour
2 tsp ground ginger
1.5 cups rolled oats
1 cup desiccated coconut
1 cup white sugar
1 tbsp golden syrup
2 tbsp boiling water
1 tsp bicarbonate of soda
160 g butter, melted [cookmybooks "one really annoying thing about this book is that it doesn't say salted or unsalted butter for the baking recipes]
Method
Pre-heat the oven to moderate (170C) and grease two large baking trays.  Sift the flour and ground ginger into a mixing bowl, and add the oats, coconut and sugar. Make a well in the centre.
Stir the golden syrup, boiling water and bicarbonate in a small bowl until combined.  Add to the dry ingredients, along with the melted butter.  Mix well.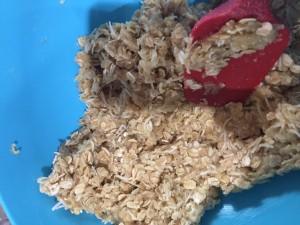 Take heaped teaspoons of the mixture and roll into balls.  Place onto the trays and flatten gentle.  Leave 2-2.5 cm between each ball.  Bake for 6-7 minutes, until lightly golden.  You will probably need to bake in several batches. [cookmybooks: " I LOVE MY HELLO KITTY BAKING LINER!!"]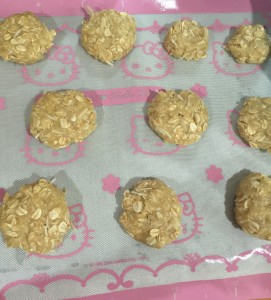 Cool on the trays for 10 minutes once out of the oven, until they firm up slightly, then lift onto wire racks to cool completely.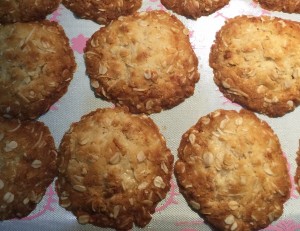 cookmybooks: Seven minutes made for a very soft biscuit. I like them a bit more crunchy so baked them for 12 minutes.  All up a very easy and delicious ANZAC biscuit!
I received my copy gratis but you can get yours at Fishpond (click on book image) or wherever good books are sold.