My rating: 4 stars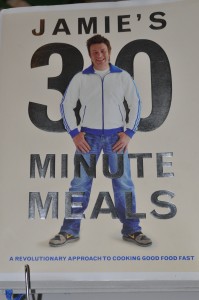 Perfect for the busy worker bee.
I have A LOT of friends who swear by this book and I can understand the appeal. Most of the recipes are simple, pantry friendly and easy on the eye. Jamie's breathless enthusiasm comes through on the page including Jamie-isms such as using a "glug of olive oil" in nearly every recipe.
The book is organised according to 30 minute menus.That is, you should be able to make any of these 3 course meals in 30 minutes.

This of course is utterly ridiculous. Only if you have the superpower to freeze time can you make these 3 course meals in less than 2 hours!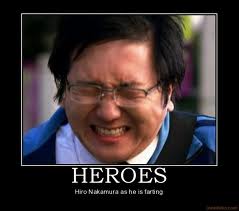 Besides the sheer comedy of the title, "30 minute meals", I did get a lot of pleasure from reading and looking at Jamie's menus.  Favourites include
Spinach and Feta Filo Pie, Cucumber Salad, Tomato Salad, Coated Ice-cream Menu and Spaghetti Alla Puttanesca, Crunchy Salad, Garlic Bread, Silky Chocolate Ganache Menu: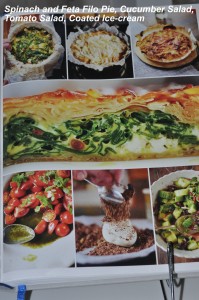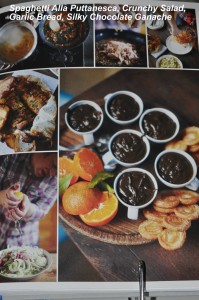 Jamie also has video icons throughout the book which refer to online videos for some techniques. http://www.jamieoliver.com/jamies-30-minutes-meals/
For example for the spinach pie recipe, there is a video of one of his staff explaining how to assemble the pie. It's fabulous although slightly different to the picture in the book.
So how does this book cook?  Warning – DO NOT use anything other than Greek Feta. I used Australian Feta (similar to Danish) and it made the whole pie so salty it was inedible. Also Jamie's recipe envisions square sheets of filo, so I cut mine into shape as in Australia the sheets come out like rectangles.
SPINACH AND FETA PIE by Jamie Oliver's 30 Minute Meals
100 g pine nuts

5 eggs

300 g feta cheese

50g Cheddar cheese

dried oregano

1 lemon

a knob of butter

400g prewashed baby spinach

1×270 g pack filo pastry

cayenne pepper

1 whole nutmeg for grating
TO START: Get all your ingredients and equipment ready.  Turn the oven on to 200C/400F/gas 6.  Put a medium (26cm diameter) oven proof frying pan on a medium heat.  Put the standard blade attachment in the food processor.

SPINACH AND FETA PIE: Put the pine nuts into the dry ovenproof frying pan to toast, tossing occasionally.  Keep an eye on them.  Crack 5 eggs into a mixing bowl and crumble in 300 g of feta.  Grate n 50g of Cheddar.  Add a pinch of pepper, a couple of pinches of dried oregano, zest of 1 lemon and a lug of olive oil.  Once the nuts are light golden, add them to the egg mixture and mix well.

Put the empty frying pan back on the heat, add a little olive oil and a knob of butter and pile in half of the spinach.  Gently push and move it around and add more as it wilt down.  Make sure it doesn't catch on the bottom and when there's room, start adding the rest stirring frequently.  Meanwhile, take the pastry out of the fridge.  Lay a large sheet of greaseproof paper, approximately 50 cm long, on the worktop, rub a little olive oil all over it, then scrunch it up and lay it out flat again.  Arrange 4 filo sheets in a large rectangle, overlapping at the edges, so they almost cover the paper.  Rub some olive oil over them.  Sprinkle over a good pinch of salt and pepper and a pinch of cayenne Repeat until you have 3 layers. Don't worry about any cracked bits. Remember to keep stirring the spinach.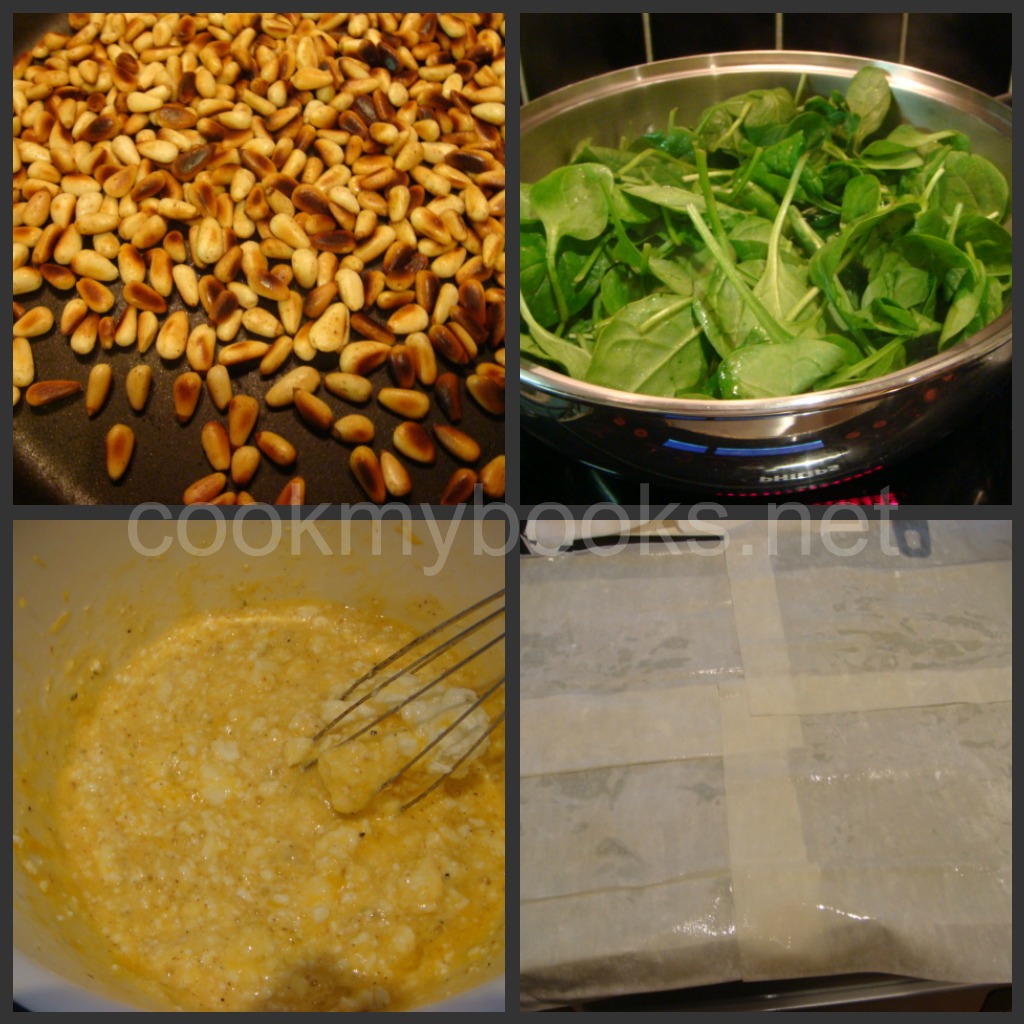 Once the spinach is really nice and dense take the pan off the heat.  Add the wilted spinach to the egg mixture and grate in 1/2 a nutmeg.  Mix well.  Carefully move the greaseproof paper and filo into the empty frying pan so the edges spill over.  Push it down the sides of the pan then pour in the egg mixture and spread it out.  Fold the filo sheets over the top and let them fall where they will.  put the pan back on a medium heat for a couple of minutes to get the bottom cooking, then put the pan into the oven on the top shelf to cook for 18-20 minutes or until golden and crisp.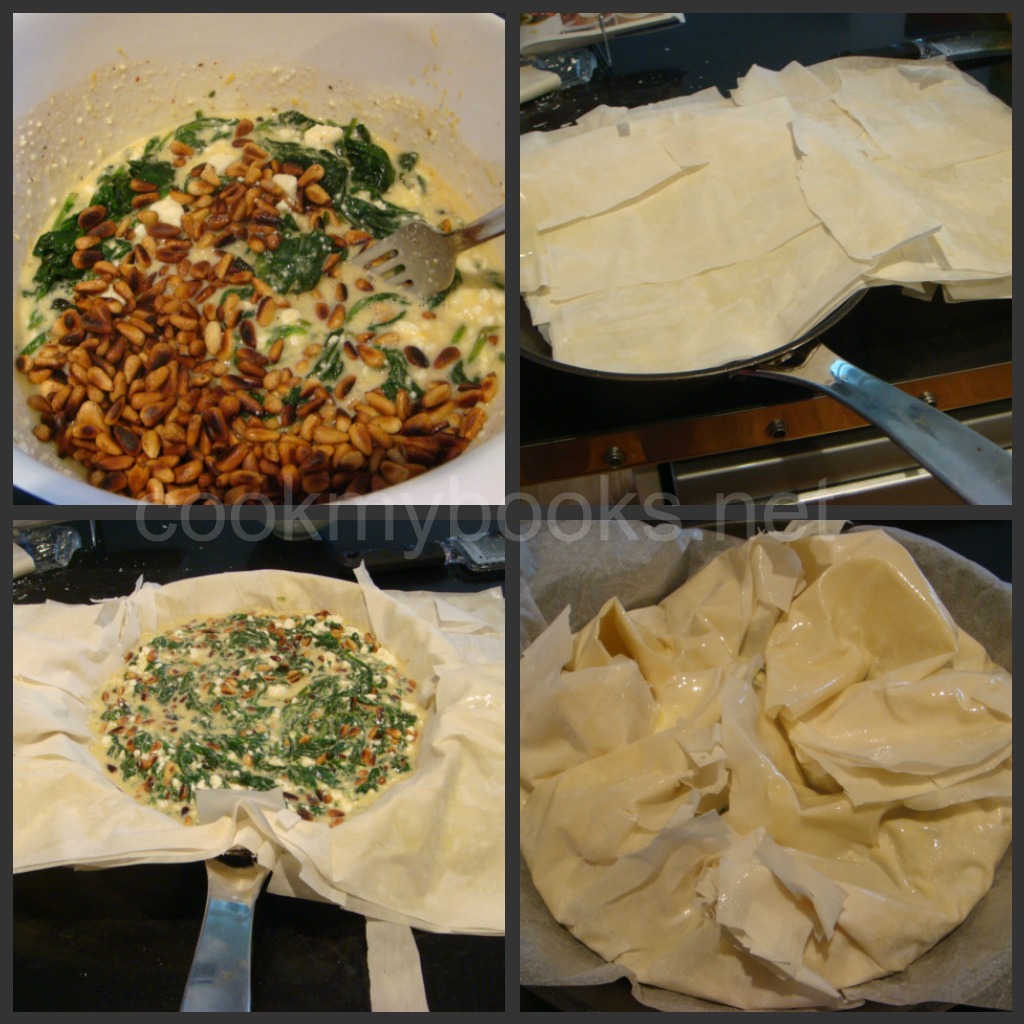 It took me 30 minutes to make this pie. I didn't even get to the other meals in the 30 minute menu!. Overall I thought the pie tasted pretty good.  It was easy to make and the pine nuts added a great texture. Flavour-wise, there is A LOT going on – nutmeg, cheese(s), a whole lemon zest, cayenne pepper. It's a little overwhelming.

This is a creative, fun and interesting book. A little too enthusiastic in terms of its 30 minute ambitions and its flavour profiles but nevertheless a really great book for the Jamie fan or budding chef.
Shopping

I got this as a gift from my friend Melanie.

I found the best online prices in order of lowest price: