My rating: 5 giant stars!!!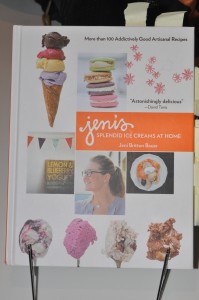 NEWSFLASH!!! THIS IS THE GREATEST CHOCOLATE ICE-CREAM I HAVE TASTED IN MY LIFE!!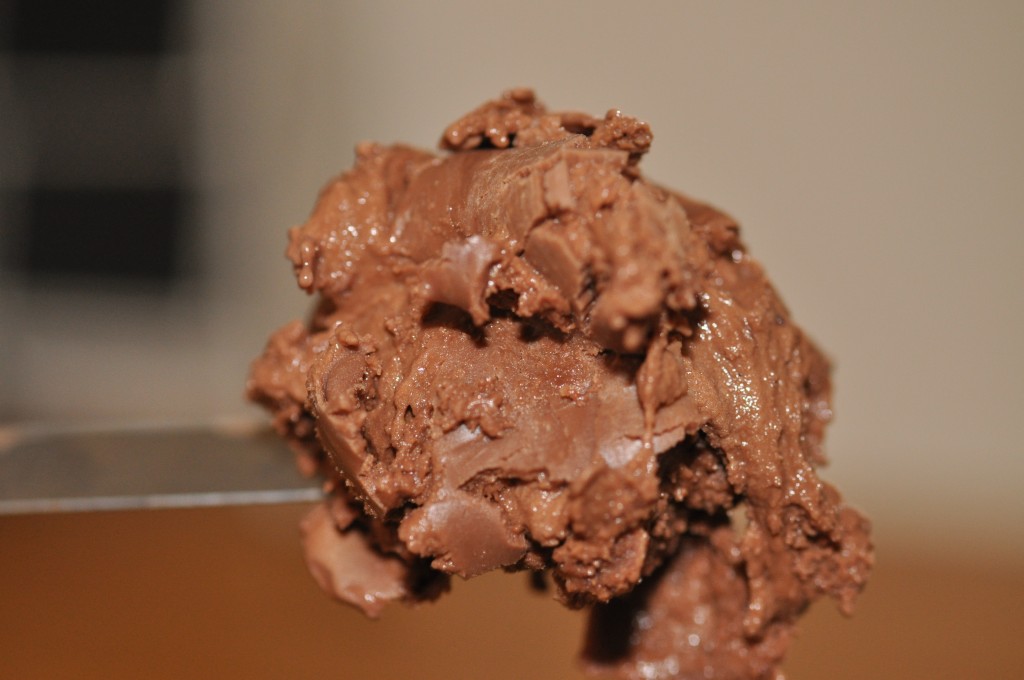 I have recently been searching for some whimsical ice-cream flavours, eg satay, maple bacon etc.  And, after looking at all the ice-cream books out there I found a new publication "Jeni's Spendid Ice Creams at Home" which had a recipe for Bangkok Peanut Ice-cream – basically a satay flavour.  The book has been a revelation!!
First of all it appeals to my inner nerd and explains why ice-cream needs protein  eg in the form of cream cheese or eggs to bind the water molecules that come from milk.  It also appeals to my lazy side as the ice-cream recipes DON'T require cooking a custard base!. It also appeals to my tightarse side by using a basic Cuisinart ice-cream machine.
The recipes in the book range from the basic vanilla, sorbets etc  to more exotic flavours like goat cheese and cherry; Bangkok peanut, brown butter almond brittle, salted caramel, plum pudding, baked apple sorbet and more. If you love or even like ice cream, you have to get this book, its creative, beautiful and very easy to follow. I made the chocolate recipe (below) and the Bangkok Peanut and loved both. I can't wait to make the Salted Caramel Ice-cream and the Lemon Frozen Yoghurt. GET THIS BOOK TODAY!!
Warning: I started eating this ice-cream one spoon at a time but ended up with my head literally inside the bucket consuming every last blob. Mmmm… ooohh the memories…
The Darkest Chocolate Ice Cream in the World by Jeni Britten Bauer (conversions are my own)
Chocolate Syrup
1/2 cup unsweetened cocoa powder
1/2 cup brewed coffee
1/2 cup sugar
1 1/2 ounces (42.5 gms) bittersweet chocolate 55%-70% cacoa, finely chopped
Ice Cream Base
2 cups whole milk (473ml)
1 tbl plus 1 tsp cornstarch
1 1/2 ounce (42.5gms) or 3 tbl cream cheese softened
1/8 tsp fine sea salt
1 cup heavy cream (237ml)
1/2 cup sugar
2 tbl light corn syrup (note Jeni says that glucose is a substitute)
Prep:
for the chocolate syrup:
combine the cocoa, coffee, and sugar in a small saucepan, bring to a boil over medium heat, stirring to dissolve the sugar, and boil for 30 seconds.
Remove from the heat, add the chocolate, and let stand for 5 minutes.
Stir the syrup until smooth. Set aside.
For the ice-cream base:
Mix about 2 tbls of the milk with the cornstarch in a small bowl to make a smooth slurry. Whisk the cream cheese, warm chocolate syrup and salt in a medium bowl until smooth. Fill a large bowl with ice and water.
Cook:
Combine the remaining milk, the cream, sugar, and corn syrup in a 4 quart saucepan, bring to a rolling boil over medium high heat, and boil for 4 minutes. remove from the heat and gradually whisk in the cornstarch slurry. Bring the mixture back to a boil over medium high heat and cook stirring with a heat proof spatula, until slightly thickened, about 1 minute. Remove from the heat.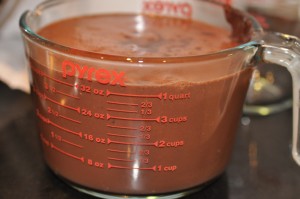 Chill:
Gradually whisk the hot milk mixture into the cream cheese mixture until smooth. Por the mixture into a 1 gallon Ziploc freezer bag and submerge the sealed bag in the ice bath. Let stand, adding more ice as necessary, until cold, about 30 minutes.
Freeze:
Pour the ice-cream base into the frozen canister and spin until thick and creamy. Pack the ice-cream into a storage container, press a sheet of parchment directly against he surface, and seal with an airtight lid. Freeze in the coldest part of your freezer until firm, at least 4 hours.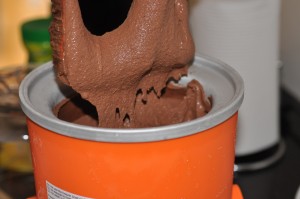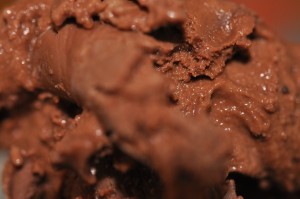 Beyond ice creams, the book provides everything you need to know to make "accessories" ie cones and cookies, honeycombs and brittles, and ideas for sundaes: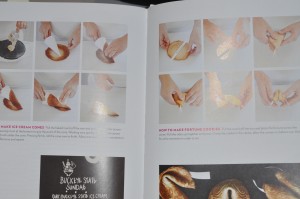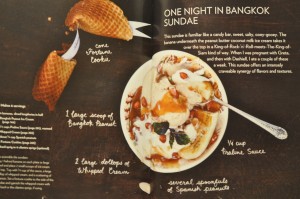 Bottom line is that I really love this book. It's easy to follow and makes mind-blowing ice-creams!
Shopping links:
I bought my copy from Amazon.com Jeni's Splendid Ice Creams at Home
You can find competitive prices at: