My rating: 5 stars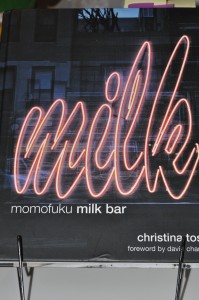 Warning: This book yielded the most addictive cookies I've made in my life.

This book is urbane, sexy, cool, witty and fun. The recipes are whimsical, clever and completely "makeable". I love everything about this book!

I love Momofuku – David Chang's series of super hip restaurants in NYC (and now Sydney!). I especially love the spinoff dessert bar – Momofuku Milk Bar.  Here are some happy snaps of the little shop in New York (below).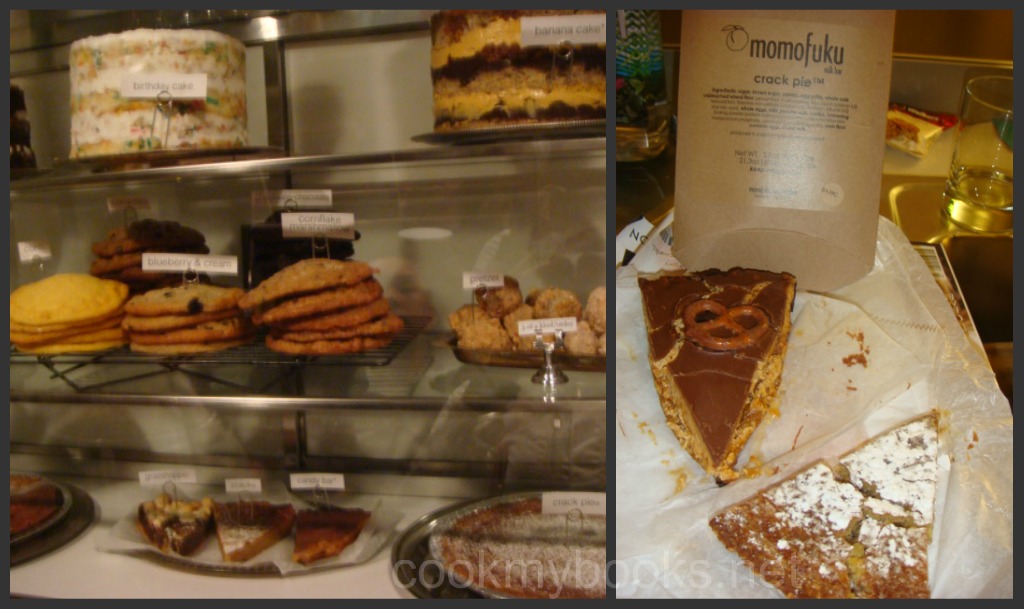 Chef Christina Tosi has been incredibly generous with this book.  She gives us her secret recipes (in both grams and American cups) along with detailed techniques required to make her delicious cakes and cookies. Unlike some other American books I found it easy to access most of the ingredients.

Tosi's book relies on clever twists on childhood flavours – eg using cornflakes and Ritz crackers and potato chips in a lot of her dessert recipes.  Delicious.

I loved reading the book. David Chang and Christina's stories on the genesis of the Momofuku juggernaut are hilarious and inspiring.

The recipes in the book really sing. Check out:

From L-R Clockwise: Cornflake-chocolate-chip marshmallow cookies, Chocolate-Chocolate Cookies, Grasshopper Pie , Banana Layer Cake.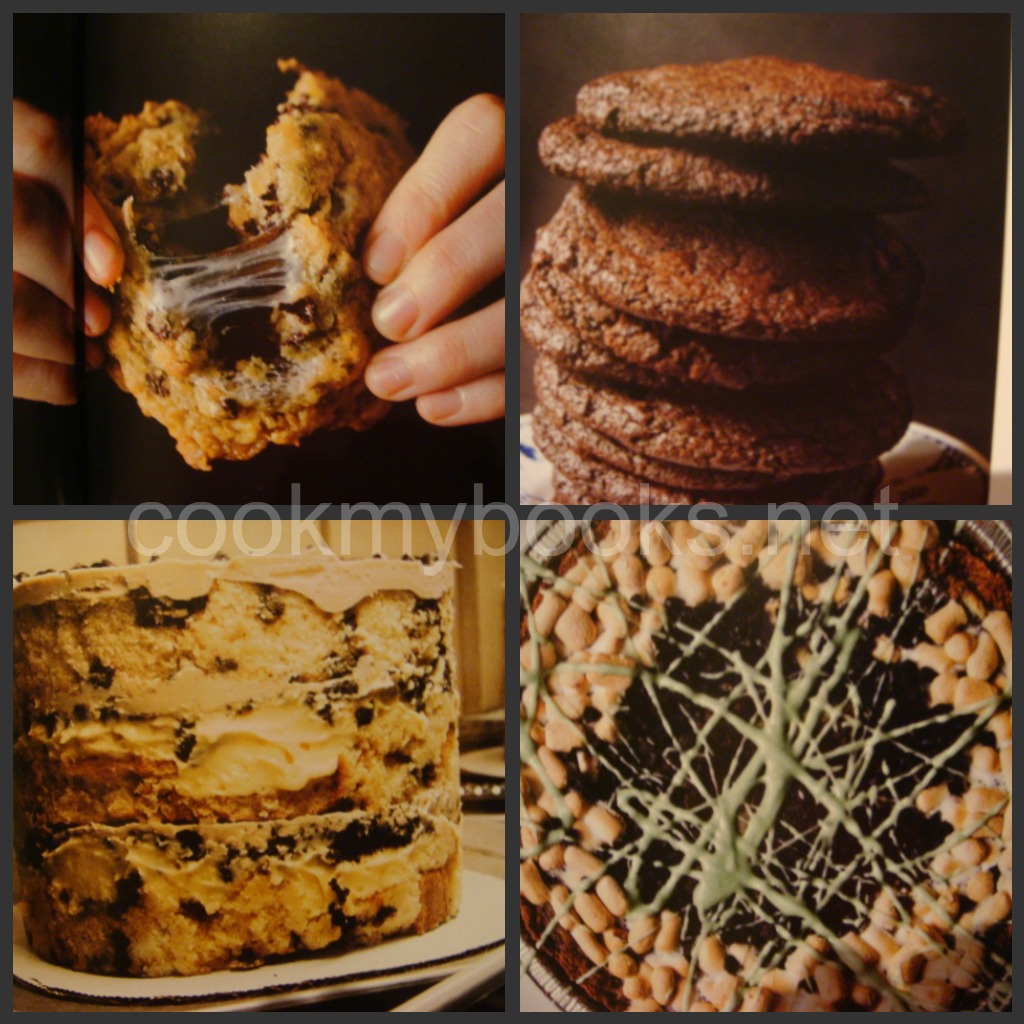 From L-R clockwise: Chocolate Malt Layer Cake, Liquid Cheesecake, Apple Pie Layer Cake, Cinnamon Bun Pie!!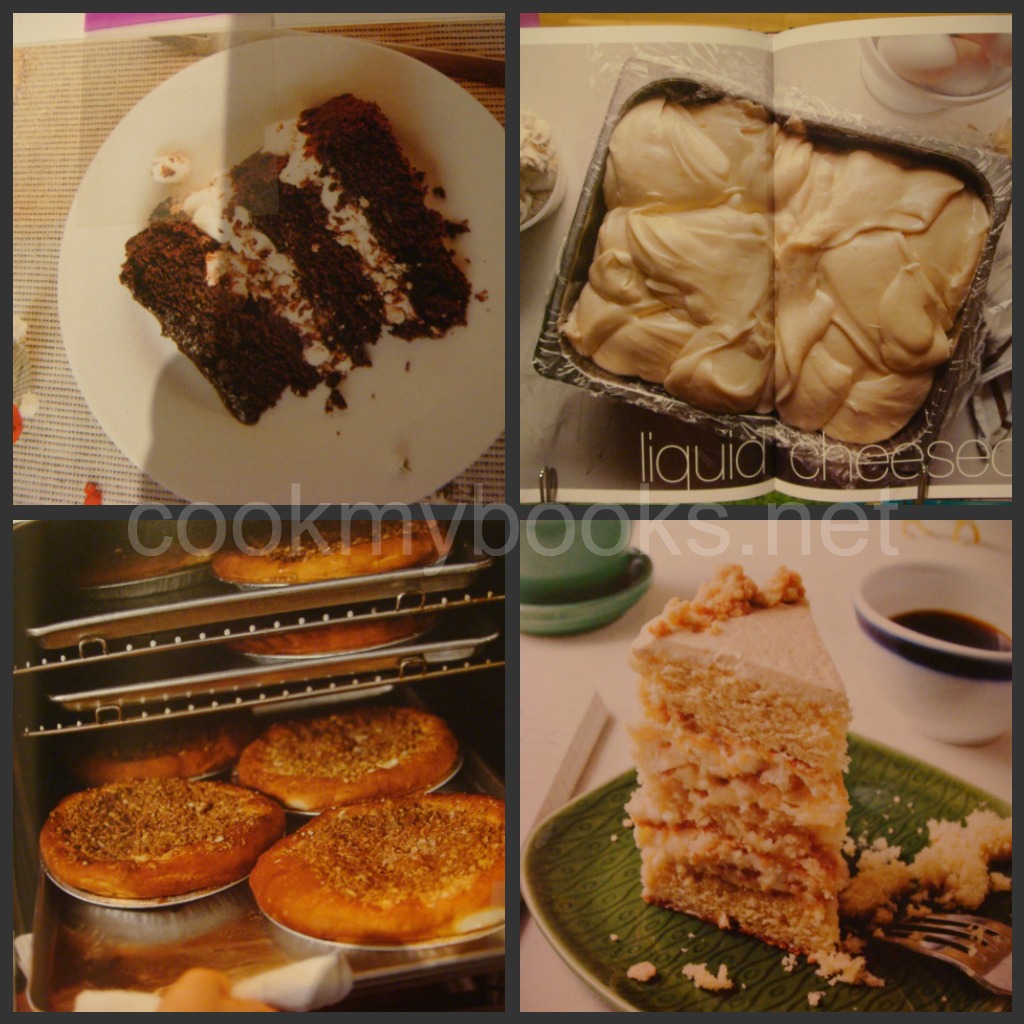 From L-R Clockwise:  "PB&J-Saltine Panna Cotta Concord Grape Jelly Peanut Butter Crunch", Banana Layer Cake (again), Lup Cheong or Chinese Sausage Foccacia. 

As the "Bonus Track" lol, she even gives us the recipe to her famous Crack Pie. As this recipe has been discussed many times before eg  http://www.atablefortwo.com.au/2010/05/06/momofuku-milk-bars-crack-pie/ I'm going to review the Cornflake-Chocolate Chip- Marshmallow Cookie Recipe
Makes 15-20 cookies
Note, I'm only going to give you the grams but cups are also given in the recipe.
Cornflake-Chocolate Chip- Marshmallow Cookie by Christina Tosi, Momofuku Milk Bar
225g butter at room temperature
250g granulated sugar
150 g light brown sugar
1 egg
2 g vanilla extract
240 g flour
2g baking powder
1.5 g baking soda
5g kosher salt (here I used West Australian salt grains. I wish I had used maldon flakes though)
¾ recipe Cornflake Crunch (below)
125 g mini choc chips
65 g mini marshmallows
Cornflake Crunch
170 g cornflakes
40g milk powder
40g sugar
4 g kosher salt
130 g butter melted
1.       Heat oven to 275F / 135C
2.       Pour the cornflakes in a medium bowl and crush them with your hands to 14 their original size. Add the milk powder, sugar and salt and toss to mix. Add the butter and toss to coat. As you toss, the butter will act as glue, binding the dry ingredients to the cereal and creating small clusters.
3.       Spread the clusters on a parchment and bake for 20 minutes, at which point they should look toasted smell buttery and crunch gently when cooled slightly and chewed.
4.       Cool the cornflake crunch completely before storing or using in a recipe. Stored in an airtight container at room temperature, the crunch will keep fresh for 1 week in fridge or freezer it will keep for a month.

Cookie recipe

1.       Combine the butter and sugars in the bowl of a stand mixer fitted with the paddle attachment and cream together on medium high for 2-3 minutes. Scrape down the sides of the bowl, add the egg and vanilla and beat for 7-8 minutes
2.       Reduce the mixer speed to low and add the flour, baking powder, baking soda and salt.  Mix just until the dough comes together, no longer than 1 minute (Do not walk away from the machine during this step or you will risk over mixing the dough). Scrape down the side of the bowl with a spatula
3.       Still on low speed, paddle in the cornflake crunch and mini chocolate chips just until they're incorporated, no more than 30-45 seconds. Paddle in the mini-marshmallows until just incorporated


4.       Using a 1/3 cup measure, portion out the dough onto a parchment lined sheet pan. Pat the tops of the cookie dough domes flat. Wrapt he sheet pan tightly in plastic wrap and refrigerate for at least 1 hour or up to 1 week. Do not bake your cookies from room temperature- they will not hold their shape
5.       Heat the oven to 375F 190C.
6.       Arrange the chilled dough a minimum of 4 inches apart on parchment. Bake for 18 minutes. The cookies will puff, crack and spread.  At the 8 minute mark, the cookies should be browned on the edges and just beginning to brown toward the centre. Leave them in the oven for an additional minute or so if they aren't and the still seem pale and doughy on the surface.

7.       Cool the cookies completely on the sheet pans before transferring to a plate or to an airtight container for storage.  At room temperature the cookies will keep fresh for 5 days, into the freezer they will keep for on e month.

I personally thought these were the most delicious cookies I've made in my life. The marshmallows (Australian) didn't hold up that well and melted into chewy bubbles throughout the biscuit. These were crunchy cookies filled with chewy, chocolatey, salty, crispy moments. AMAZING.

Shopping

I received my copy gratis but found the cheapest online prices at the time of post at Amazon  and at fishpond – links are below: