My rating: 4 1/2 stars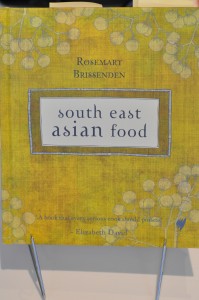 This book is definitely one of those compulsory doorstops along with La Cuisine, Stephanie Alexander and anything by Marc Bittman…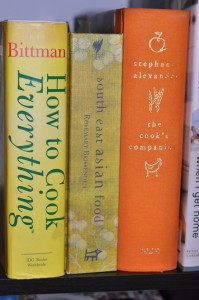 Unlike those books however, this book has longer history. This book was first publishedin 19070 by the (at the time) incredibly adventurous Rosemary Brissenden in younger Froddo form.
Now updated, the book covers most cuisines of South East Asia including "Indonesia, Malaysia and Singapore (Malay, Chinese, Nyonya, Indian, Eurasian), Thailand, Laos, Cambodia, Vietnam, and a few desserts".
The book has now been fully updated.
When I first got this book I was prepared to be fairly glib and gen Y about it (ie an arsehole). However, having read a lot of the book I have grown to really respect it. Elizabeth David said of the first edition that "every serious cook should have a copy of this book". Cookmybooks wholeheartedly agrees.
I became a fan when I read that one of the motivations for the update was that Rosemary found that in modernised Asia, even local families were beginning to lose the recipes of their grandparents as they (like a lot of the world) were relying on fast and prepackaged foods. This book therefore feels like a historical record as well as a comprehensive cookbook.
Like a lot of mega-cookbooks there are no pictures of flashy inserts. This book is no beauty queen.
Then why buy this book when so many recipes are available on line? Well this book tries to serve as a culinary overview of the entire region and of each individual country. Brissenden even provides multiple pronunciations of all ingredients in the region – Botanical name, Indonesian, Malay, Thai, Lao, Khmer and Vietnamese!  The little blurbs at the beginning of each recipe are also very informative.  It's an amazing and brave encyclopedia of a hugely diverse region.
But how does this book actually cook? To do it justice I tried to cook two recipes from this book. – Curry Puffs and Chicken Curry…
Note all recipes are in metric and US / imperial measures! Hooray!!
Fried Curry Puffs (Indian style from Malaysia and Singapore)
Pastry
250g plain flour sifted
¼ tsp salt
½ cup coconut cream (pati santan )
100 ml water
Curry Filling
1 tbl vegetable oil
1 brown onion, finely chopped
250g lean mutton or beef or chicken, finely chopped or minced
2 tbl commercial Malaysia Indian meat curry powder
½ tsp roughly ground black pepper
Salt to taste
1 large potato, boiled, peeled and diced
Oil for deep frying
Sift flour and salt. Mix in coconut cream or butter and then water, and lightly knead into a soft dough. Allow to rest for 15 minutes or so. Roll out thinly and cut into circles bout 8cm (3inches) across.
Heat 1 tbl of oil in a pan and fry the onions until golden. Add the meat, curry powder and pepper. Stir until everything is well mixed and the meat has changed colour. Add salt to taste and a little water. Cook for 5 mins – until the meat is done and the curry is dry. Lastly add the potatoes and stir thoroughly to mix. Allow to cool.
Place a little filling on each pastry round, fold over into a semi-circle and crimp edges to seal. Deep fry in plenty of hot oil until golden brown. Drain and serve hot or cool, accompanied by a bowl of mint chutney to dip into.
Frozen ready-made flaky or puff pastry may be used instead of the one given above, but in this case the curry puffs are used in the oven.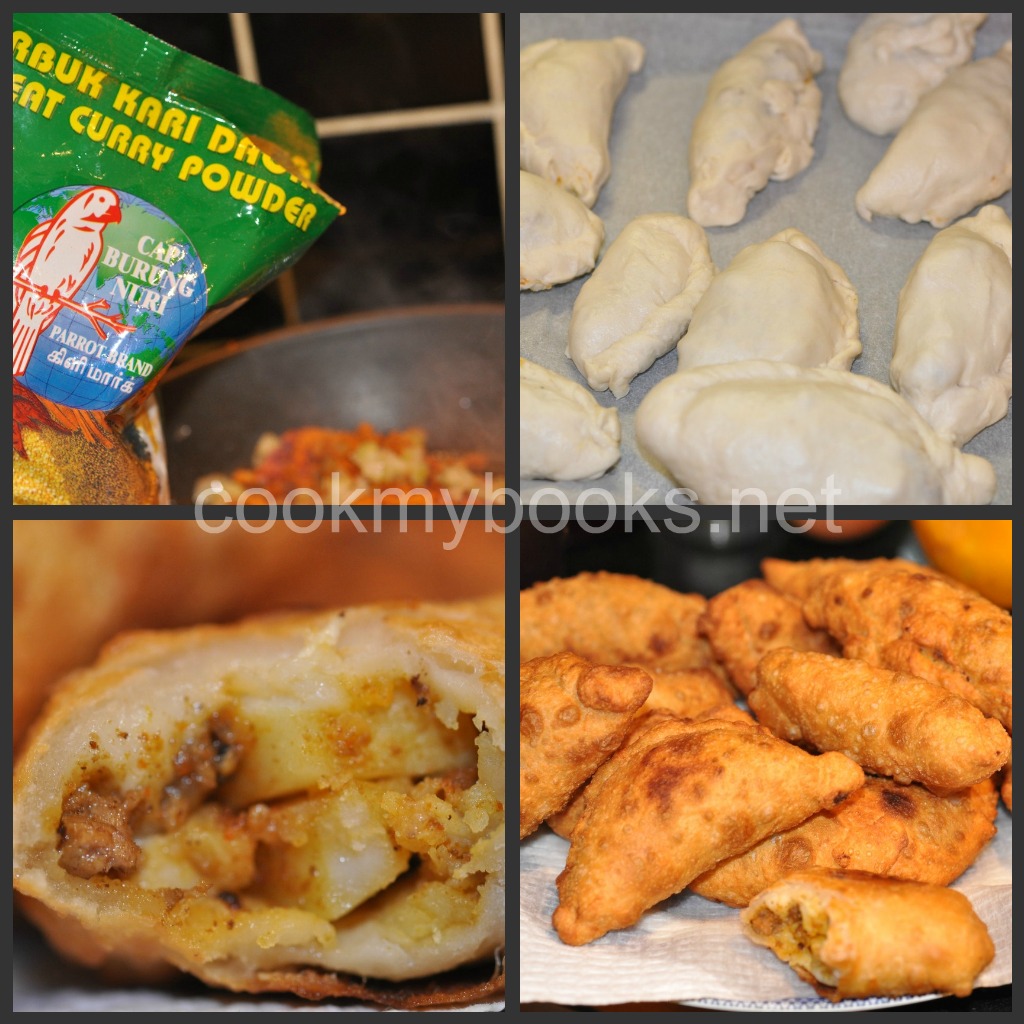 These tasted good but as they are Indian style they are very dry on the inside. I should have followed Rosemary's suggestion to serve with a dipping sauce. Very simple and delicious. Next time I'm definitely using store bought pastry as I don't really think the coconut pastry was worth the trouble.
Next up was Nyonya Chicken Curry (Malaysia Singapore)
Nyonya Chicken Curry (Gulai Ayam)
This gulai illustrates the fastidious elaboration of spices often employed in Nyonya cooking.
1 chicken or 1-1.5 kg chicken pieces
5 tbl vegetable oil
2 cups thin coconut milk
Salt to taste
Sugar to taste
1 cup thick coconut milk
Paste spices
2 tbl coriander seed
1 tsp cumin
1 tsp fennel seed
2.4 cm stick cinnamon bark
2 cloves
10 dried chilies, seeded and soaked in warm water until soft and then squeezed dry
1 tsp peppercorns
1.5 x 1.5 cm slice or ½ tsp shrimp paste
1 stalk lemon grass, finely sliced
2 slices galangal chopped
2.5 cm fresh turmeric or ½ tsp turmeric powder
4 candlenuts, smashed
3 medium sized cloves garlic sliced
10 shallots, sliced
Chop the chicken into curry pieces (p27). To prepare the spice paste put all the dry spices into a food processor attachment and grind finely. Then pound them together with the remaining ingredients. Heat the oil in the claypot (Belanga) or a saucepan and when it is hot put in the spice curry mixture.  Add the thin coconut milk, salt and sugar, stir to mix well and simmer gently until the chicken is tender.  When it is almost ready add the thick coconut milk and stir it in.  Remove the pan from the fire and let it stand for a while before serving.  Like all curries, this one is good if prepared a few hours ahead and left to mature.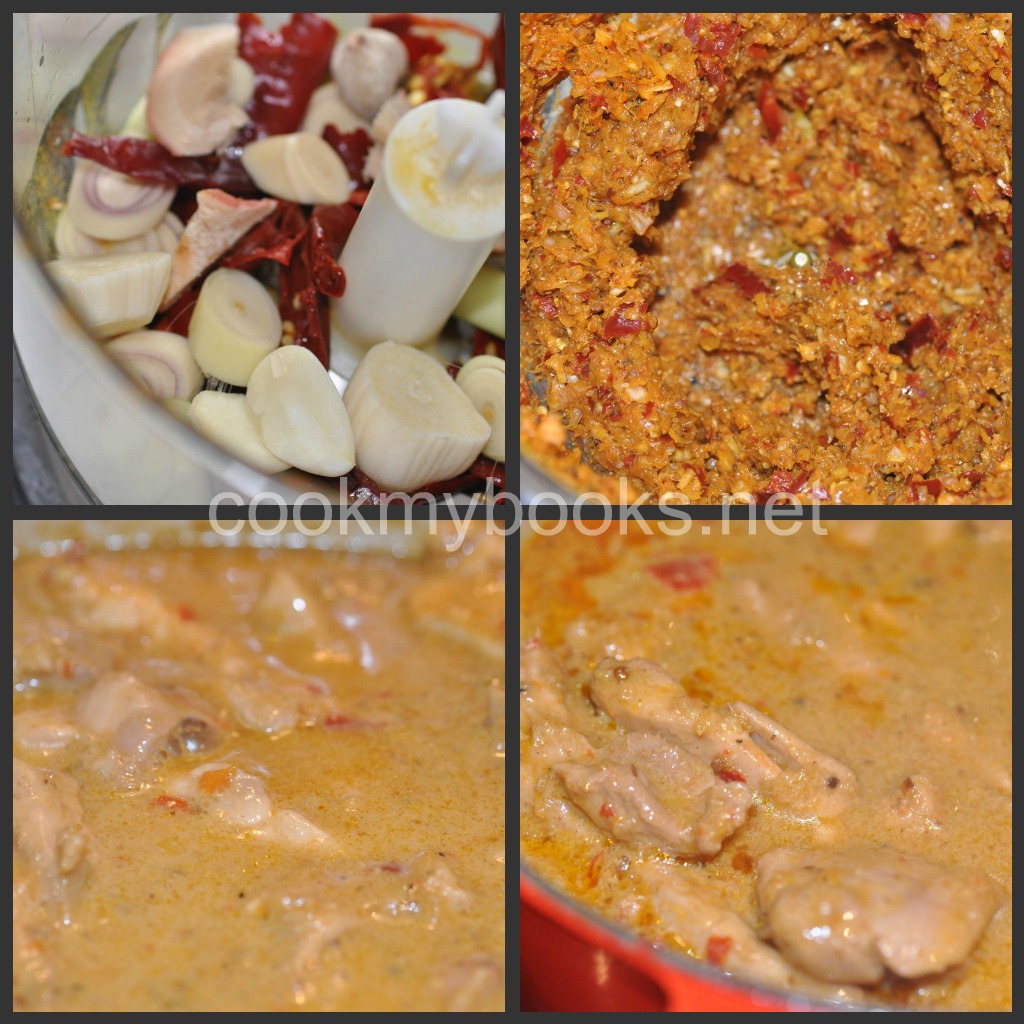 This is one of the nicest (and richest) curries I've made in a long time. I do prefer some citrus fragrance such as kaffir lime in my curries but this one was still pretty darn tasty. My Singapore diners said they preferred having more potato in the curry for both texture and thickening of the sauce. If I made it again I will definitely drop some in. Overall though a really simple recipe which should appeal to most people. It's certainly very mild as a Nyonya curry should be.
This book has a few annoyances and quirks. For example, it doesn't say anything about toasting spices first before grinding.  It also leaves a lot of steps to the ingredients index. For example, a recipe may say to use lemongrass, but you have to turn to the index to learn that you are supposed to use the white part only. Double checking these things is kind of a pain. Why not write "lemongrass – white part only" as part of the recipe!
Nevertheless, if you love food from this region and want an encyclopedic well written volume then this is the book for you.
Shopping Always shop around. I received my copy gratis but found a great price at fishpond (click image below)
and at bookdepository here and amazon: