Welcome to the new version of cookmybooks! (now cookmybooks.net).
To celebrate the new site we are giving away a copy of "The Sorcerer's Apprentices" RRP $29.99 to one of our subscribers.
The Sorcerer's Apprentices – A Season at El Bulli – Behind the Scenes at the World's Most Famous Restaurant by Lisa Abend.
Published by Simon & Schuster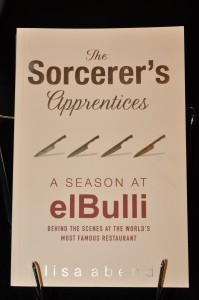 Just use one of the subscription options on the right and you have a chance to win!
Don't forget to email us for any suggestions or requests for book review!
I look forward to hearing from you.
Results from the win will be posted in two weeks time.
Cheers!
Cookie!