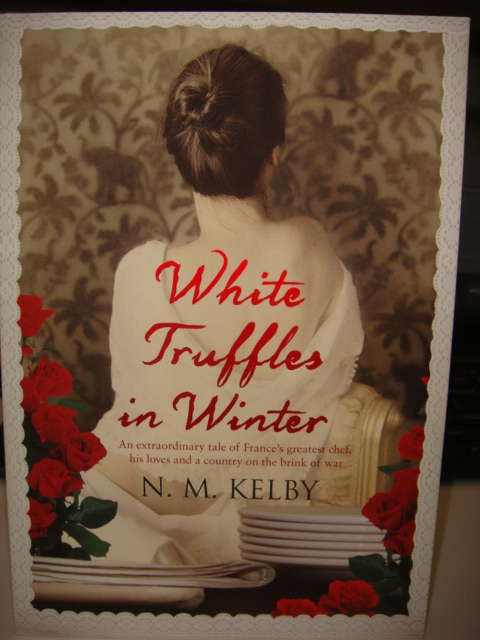 How does one define the complexity of love on a single plate? N. M. Kelby brings us the sensuality of food and love amid a world on the verge of war in this work that shimmers with beauty and longing.
White Truffles in Winter imagines the world of the remarkable French chef Auguste Escoffier (1846-1935), who changed how we eat through his legendary restaurants at the Savoy and the Ritz. A man of contradictions – kind yet imperious, food-obsessed yet rarely hungry – Escoffier was also torn between two women: the famous, beautiful, and reckless actress Sarah Bernhardt and his wife, the in­dependent and sublime poet Delphine Daffis, who refused ever to leave Monte Carlo. In the last year of Escoffier's life, in the middle of writing his memoirs, he has returned to Delphine, who requests a dish in her name as he has honored Bernhardt, Queen Victoria, and many others.
N. M. Kelby(Nicole Mary Kelby) has been translated into several languages and offered by The Literary Guild, Doubleday Book Club, and Quality Paperback Book Club. She is the recipient of a Bush Art­ist Fellowship in Literature, an NEA Inter-Arts grant, the Heekin Group Foundation's James Fellowship for the Novel, both a Florida and Minnesota State Arts Board Fellowship in fiction, two Jerome Travel Study Grants, and a Jewish Arts Endowment Fellowship. She is the critically acclaimed author of In the Company of Angels, Whale Season and the Florida Book Award win­ner A Travel Guide for Reckless Hearts, among others. She lives in Minneapolis, Minnesota.  The BBC are doing a documentary about Escoffier.
To Win: Comment or Email the answer to this question: "Which chef is the subject of this book?"