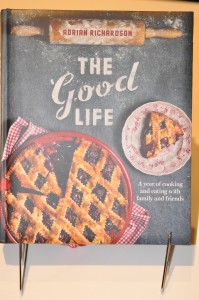 Congratulations G.Runacres!
You have won a copy of  "The Good Life – A year of cooking and eating with family and friends" by Adrian Richardson. Chef extraordinaire of La Luna Bistro and tv host of "Secret Meat Business" on the Lifestyle channel.
I'll be reviewing this book shortly – making the footy pies. I'd love to have a bake-off with you!
Thanks to Pan MacMillan Australia for the book.
Thank you all for entering and supporting this site! Stay tuned to more giveaways and reviews
"The Good Life is about cooking and eating well with friends and family; getting back to basics and making things from scratch" RRP $59.95