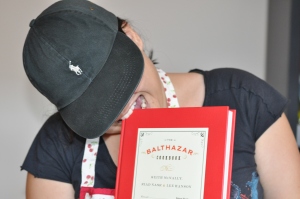 After buying a well reviewed book from a very famous chef I was freaked to find that the recipes didn't work! Were they keeping trade secrets? The failures made me question my own not inconsiderable cooking talents until I heard my friends had the same problems!
I noticed there were rave reviews of the book on some book sale sites and I wondered what the hell these reviewers were thinking.  There is more to a cookbook than pretty pictures.
So, this is a cookbook review site for people that actually cook from these books.  I am testing the recipes as written and resisting any urges to modify, edit, or "improve".  My focus will be cookbooks from Australia as well as those from around the world. Also check out my blog links – I am going to try and test some of the all time classics!
I'd love to hear your comments too.
Lets eat!!!
Cookie McBookie – Global foodie, Melbourne writer
email: info@cookmybooks.net
Click here for the legal stuff!