My rating: 5 stars !

Warning: good, old-fashioned chocolate cake you want to ram into your face with your fists.

This is a new paperback book from Valli Little and the team behind delicious.  There are 120 new recipes in here which celebrate 10 years of delicious being at the top of the food magazine tree.

This book has incredibly broad appeal.  The recipes are easy to make and are the kinds of food you want eat everyday and on special occasions.

Such a combination of utility, generic taste and style takes absolute genius.

This isn't a coffee table book but a cookbook you are going to use.  This book is the perfect gift for the person you love (and want to cook better) or for the office pal you don't really know but have to pay for the group present.

The perfect gift for everyman/everywoman.  Here are the recipes I am dying to make (each is photographed)

Below: Chocolate Butterscotch Layer Cake, Duck Breast with Spicy Orange Sauce, Apple Tarte Tatin, Prawn and Taramasalata Rice Paper Rolls.

 

Below: Grown-up Chicken Nuggets, Prawns with Tomato Icecream, Garlic Prawn Pate, Roasted Tomato Soup

Below: Corn Soup with Avocado, Lime and Grilled Prawns, Lobster Thermaidor, Duck with Cherry Sauce, Chinese Pork Buns


Below: Pineapple Caramels, Chocolate-Swirl Meringues with Glazed Strawberries, Black-bottom Lemon Meringue IceCream Pie, Chocolate Mousse Tarts



Below: Fish Pie, Self-Saucing Chocolate Pudding, Pork with Kumara Bake and Cider Gravy, Chocolate Christmas Pudding


But how does this book cook?
Chocolate Butterscotch Layer Cake by Valli Little's delicious

2 tbs redcurrant jelly
1 cup 250ml milk
2 ½ cups 375g self raising flour
1 cup 100 g good quality cocoa
1 cup 220g caster sugar
1 firmly packed cup 250 g brown sugar
125g unsalted butter, melted, cooled slightly
1 tsp vanilla extract
6 eggs lightly beaten
2 cups chocolate ganache (below)
Butterscotch cream
600 ml thickened cream
3 tbs golden syrup
2 tbs brown sugar
½ tsp vanilla extract
Chocolate Ganache (this makes 4 cups). I halved it to make the ganache for this cake)
450g good quality dark chocolate chopped
175g unsalted butter
600ml thickened cream
¼ cup 90g liquid glucose
For the Ganache
Place chocolate and butter in a bowl set over a pan of simmering water (don't let the bowl touch the water), stirring until smooth. Remove from heat. (Note I just did this in microwave for 90 secs)
Place the cream and glucose in a pan, bring to just below boiling point. Pour over the chocolate mixture and stir until smooth. Chill for 30 minutes or until thick. The ganache will keep chilled for up to 1 week – gently reheat before use.
Note the recipe also gives details on how to make the toffee hazelnuts which I left out
For the Cake
Preheat oven to 160C. Grease and line 2 20cm spring form cake pans.
Stir redcurrant jelly with 1 tbl milk until smooth (Note: RedCurrant Jelly is in the sauces section with mint jelly). Set aside.
Sift the flour and cocoa into a bowl, then add the caster sugar, brown sugar and ½ tsp of salt.  Add the butter, vanilla, eggs, redcurrant jelly mixture and remaining milk and stir to combine. Divide between the prepared pans, then bake for 45-55 minutes until a skewer inserted into the centre comes out clean. Cool cakes in the pans for 10 minute then transfer to a wire rack to cool completely.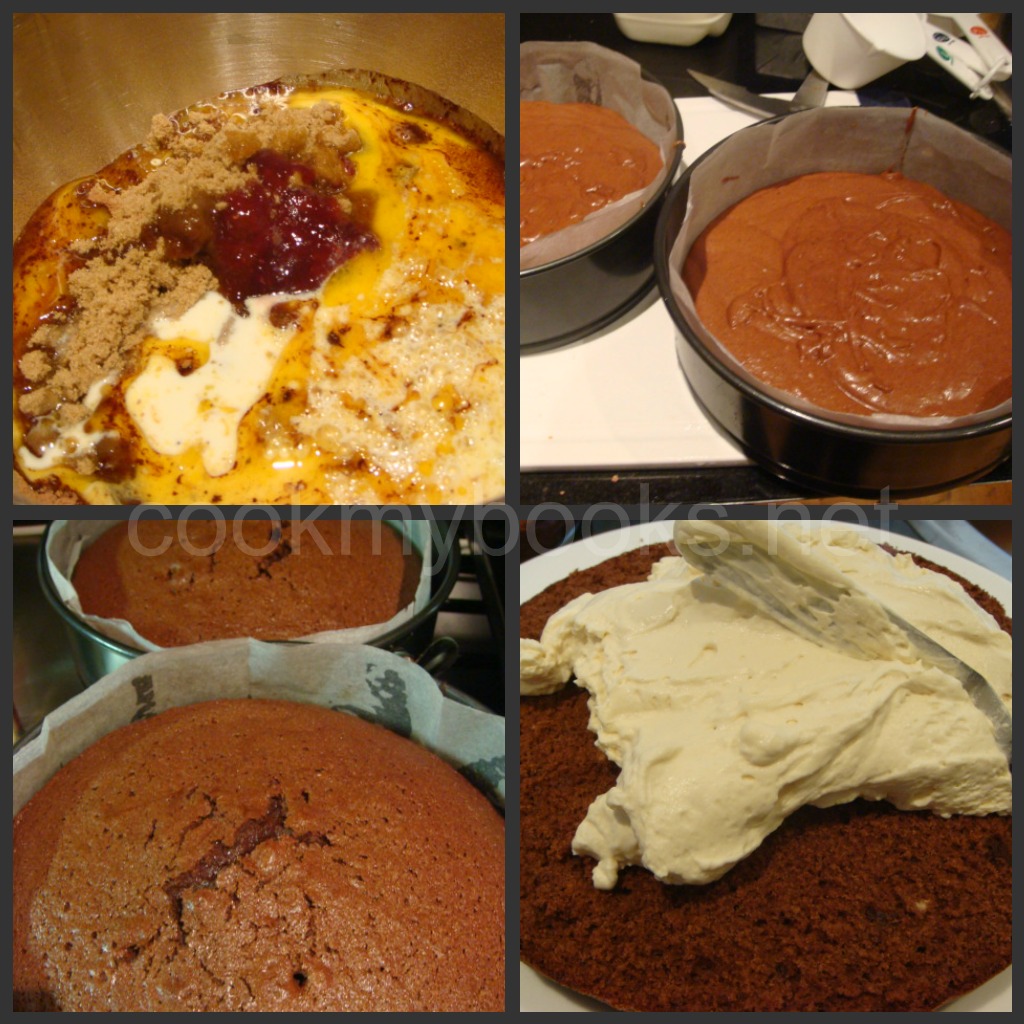 For the butterscotch cream, place the cream, golden syrup, sugar and vanilla into an electric mixer and beat until stiff peaks form. Keep refrigerated until ready to use.
To assemble, use a serrated knife to halve each cake horizontally to give 4 layers. Place 1 layer on a serving plate, then using a spatula, spread one-third of the butterscotch ream on the cake.  Repeat 2 more times, then top with the final layer of cake.  Spread the ganache over the top of the cake. Serves 8-10.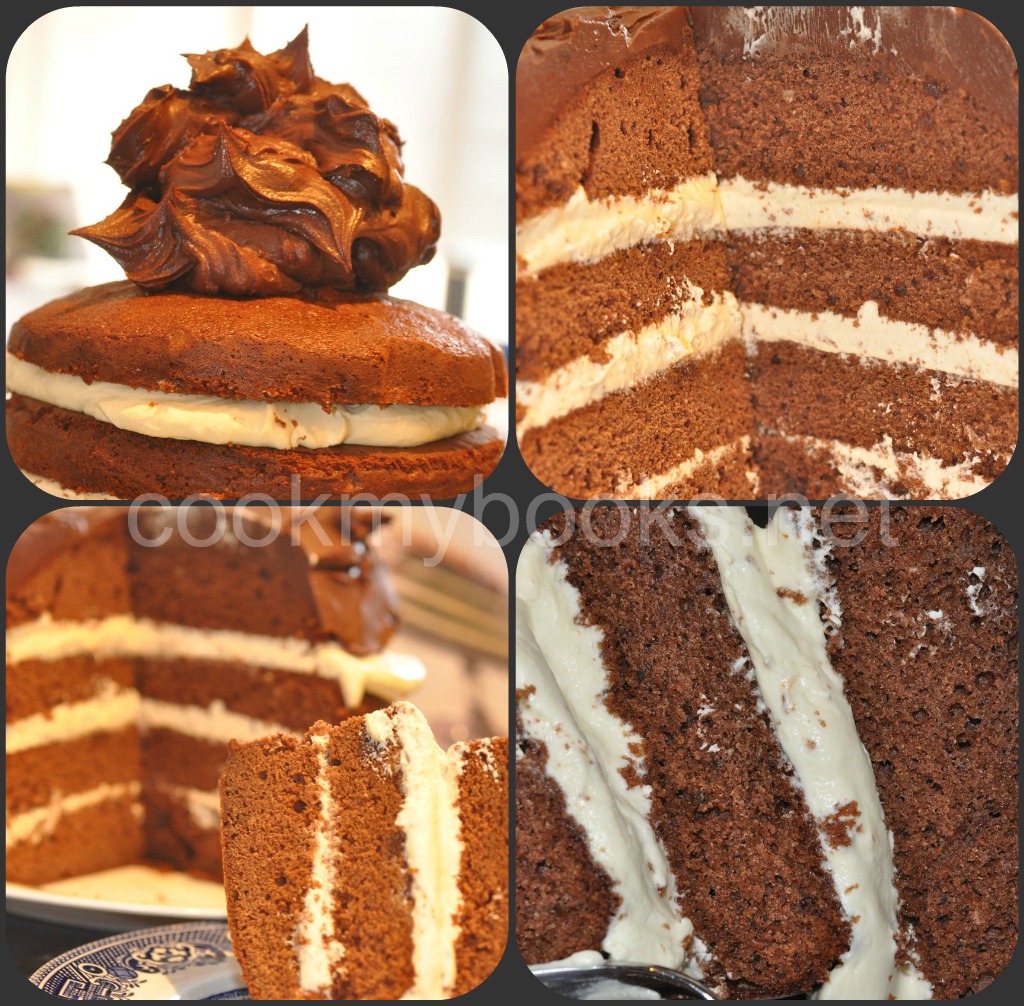 This cake tastes like real old fashioned chocolate cake. It has a light crumb and nice chocolate flavour. The butterscotch cream tastes fantastic and really enriches the texture of the cake. I love the ganache – its better than a lindor ball filling. This cake was very popular with my testers as they could mix the balance between cake, cream and ganache to make their own perfect bite. This is a spectacular cake that tastes very down to earth.
Shopping
I received this book gratis but at time of post found good deals at